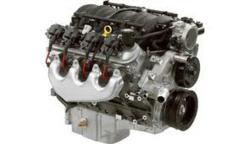 These are prebuilt and ready for installation immediate upon delivery.
Beaumont, Texas (PRWEB) January 29, 2013
General Motors is awarded annually as the top U.S. automaker followed closely by Ford, Chrysler and Toyota. The strength of the engine department at this company has helped to place more emphasis on quality as well as performance. The CrateEnginesforSale.com company is now discounting its sale price for all GM crate motor inventory. This includes multiple sizes for makes and models in the Chevrolet, Pontiac and GMC lineups. More information can be located online at http://www.crateenginesforsale.com/gmc.
The Chevrolet brand of the GM company includes various editions of passenger cars, luxury cars, concept cars and pickup trucks. The GMC side of the company relies specifically on SUV and pickup trucks. While GM has closed its Pontiac and Oldsmobile divisions, many of these General Motors family vehicles remain in use in North America.
Since few automakers sell crated engines directly to the public, the discounted motors that are now online are designed to fill in the gap of inventory that can be a struggle to find for secondary market motor buyers.
The concept of crated motors is one that the general public might be unaware about when searching the secondary market inventory that can be found online. Unlike purchases made from junkyards or salvage companies, crated units are stored in crates that make them easier to ship. These are prebuilt and ready for installation immediately upon delivery.
One of the reasons the GM brand has remained a popular replacement choice is the amount of sizes that are available. The popular 3.1, 5.3, 5.7 and 6.0 sizes are used in many vehicles across the General Motors brands.
To go with the new discounts offered online, a new system to quote prices was recently installed. This new system is based on the complete warehouse inventory that is updated daily. This linked system is able to provide updated price quotes without requiring submission of personal information. This new system is useful to companies and to the buying public performing price checks before buying decisions are made. This new system is now installed and available for immediate use online.
About Crate Engines for Sale
The Crate Engines for Sale company is now one of the largest suppliers on the Internet for replacement motors. The built units that are stored in the company warehouse are shipped inside the United States and to customers in Canada. The crated motors from Ford, Chevrolet, Dodge, GMC, Honda and other manufacturers are used to supply the used car industry and project car builders. The Crate Engines for Sale company now attaches a 3-year warranty package with all purchased engines to make certain that each installed unit provides the OEM factory longevity that is expected after installation.