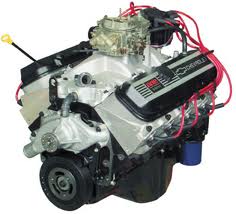 One of the ways that the CrateEnginesforSale.com company is using to offer more value is with the placement of its three-year warranty program.
Beaumont, Texas (PRWEB) February 16, 2013
General Motors was one of the first companies to sell drop-in ready motors to car builders and car owners to use for engine replacements. The same power and performance put into actual GM builds is available on the secondary market courtesy of CrateEnginesforSale.com. This company has added GM Goodwrench engines to its performance inventory for sale online. These new engines are immediately ready for install upon delivery. More information can be found online at http://www.crateenginesforsale.com/gm/gm-performance-crate-engines.
Popular engines in the GM family include engines used in Corvettes, Camaros, Silverado, Suburban and other vehicles produced for decades. The small block 350 provides the base of many replacement engines that can be found in crate editions through most sellers.
The range of V6 and V8 motor inventory that is now available in the performance inventory has been created to provide the most options for buyers searching for replacement motors and classic or current edition vehicles. These new additions are offered for reduced pricing for online or offline sale.
The public demand for crate motors has remained strong due in part to the design and development of automakers. Because these motors are now available for immediate sale to the public, many retailers are now offering custom built editions sold on the Internet. One of the ways that the CrateEnginesforSale.com company is using to offer more value is with the placement of its three-year warranty program.
This new program offers immediate protection against sudden breakdown, parts failure or defects in the labor for each custom built motor. This warranty protection now offered is typically missing from sales that are made by some retailers online.
The new GM Goodwrench inventory increase is part of inventory upgrades that have taken place recently. Engines from Ford, Dodge, Plymouth and others have been added for immediate sale to customers. These custom builds now go through phases of testing before customer shipments are made.
It is these tests that help verify the quality of each manufacturer build according to OEM documentation. The company announcement of the new range of testing can be read online at http://www.sfgate.com/business/prweb/article/Crate-Engines-Now-Dyno-Tested-Before-Sale-at-4200946.php.
About Crate Engines for Sale
The Crate Engines for Sale company produces OEM motors that are used for replacement inside of secondary market vehicles or new project vehicle builds. This company has sold its inventory on the Internet for three years and has grown annually due in part to higher output quality. Through generous price points, this company now offers affordable engine replacements to the public and to companies purchasing on behalf of vehicle owners. The Crate Engines for Sale company warranties each motor sold for a period of 36 months after purchase is complete. The online portion of this company provides a resource center for customers to use during engine research.