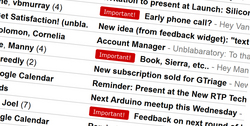 Not all email is created equal. Gtriage saves you time by putting your important emails, front & center so you aren't distracted by all the "Blab".
Durham, NC (PRWEB) June 29, 2010
News from the Unblaboratory! Unblab announces the beta release of our first artificial intelligence service for Email. Gtriage - the new email management tool - lets you keep all of your most important emails front and center. It's easy to set up and free for Gmail™ users!
Overloaded with email? Gtriage uses advanced machine learning and artificial intelligence to discover which emails are important to you. Then it labels those emails "Important!" within your Gmail™ or Google Apps™ inbox. Take a look at our video tour.
Blab Wastes Time
The average American office worker receives over 126 messages every day. Of those 126 emails:
42 are spam
29 are personal
28 are bacon (newsletters, automated alerts, etc)
and 17 are work-related
On average, only about 37% of emails even have the potential to be important. And only 13% could be important for work. This creates a needle-in-a-haystack problem that can be very time consuming. Gtriage lets Gmail™ and Google Apps™ users focus directly on the emails that matter and look past the ones that don't.
Invite your readers to try Gtriage beta for Free- Just request an invite code then direct your readers to:

Go to Gtriage sign up with the invite code you supply.
Login to the Gtriage dashboard to add your Gmail mailbox with Google's secure OAuth protocol
Click Start
That's it. No other setup or configuration needed. Just click Start in the Gtriage Dashboard and the service figures out everything it needs to know automatically.
Gtriage is currently free for Gmail™ users and starts at $6/month for Google Apps™ users (with a 30 day free trial).
About Unblab
At Unblab we create artificial intelligence to solve big problems. Today we're solving Email Overload by helping email users quickly find their most important messages. Unblab is an angel-funded company located in the Research Triangle Park, NC. Our first product is Gtriage. You can learn more about Gtriage at our page on the Google Apps Marketplace.
For a code to evaluate Gtriage, images, more information, or to arrange an interview with Unblab's founder, Eli Holder, please contact Unblab Media Relations- Kasey Sellati, Kasey(at)unblab(dot)com (919) 537-9992.
# # #