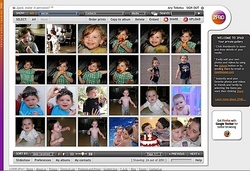 I often receive nice photos or videos by email and I don't know what to do with them. I can't find them when I want to enjoy them later on. With the new 2pad automatic extractor, all these precious pictures are now safely stored in my private 2pad gallery, easy to find, enjoy and share
Raanana, Israel (PRWEB) July 7, 2008
Google Gmail user can now benefit from a great new service:
Their private online photo/video gallery, automatically generated from their emails.
To try it (it's free), and rediscover all the great pictures buried in emails, users can sign-up here:
About 2pad
2pad, the first private online media sharing service, allows users to enjoy the photos and videos they exchange by email in a private online gallery - automatically created and synchronized from user's emails.
2pad's new automatic extractor will access a user's emails on supported services (most IMAP4 services including AOL mail and Gmail), find and extract photos and videos from the emails and add them to the user's private 2pad online gallery.
In addition each picture will be tagged with the subject and body text from the email containing it - and associated with the sender and recipients information for easy navigation and search in the gallery.
To benefit from this new feature users just need to sign-up for free at http://www.2pad.com.
Aaron Boublil, CEO of 2pad, states: "I often receive nice photos or videos by email and I don't know what to do with them. I can't find them when I want to enjoy them later on. With the new 2pad automatic extractor, all these precious pictures are now safely stored in my private 2pad gallery, easy to find, enjoy and share".
Based on the idea that email will always remain a constant in the online world, 2pad's private online media management services offer simple yet secured photo and video online storage, smart cataloging, and optimized viewing of rich media.
Established in 2006, 2pad (http://2pad.com) proudly stands as the first email 2.0 photo & video gallery. Based on the idea that email will always remain a constant in the world, 2pad was created to allow users to enjoy all the benefits of a Web 2.0 private online gallery while continuing to exchange photos and videos by email.
###