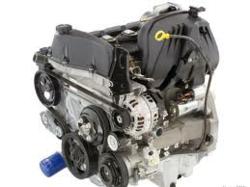 The popularity of the 5300 engine series is one of the reasons for the new addition to the Used Engines company inventory.
Beaumont, Texas (PRWEB) January 03, 2013
The UsedEngines.co company has now added the GMC Sierra 1500 engine to its inventory online. This 5.3 GM variant is now available for sale to truck owners and those that make purchases to install these engines. These low mileage engines are now priced below the MSRP retail price as an incentive to celebrate this new company addition. More information can be found online at http://www.usedengines.co/gmc/gmc-sierra-1500-engines.
General Motors created its Vortec engine series as a Gen III replacement for earlier engine editions in the 1980s. This technology has been upgraded annually as new engineering methods have been created. The popularity of the 5300 engine series is one of the reasons for the new addition to the Used Engines company inventory. This motor is used for more vehicles apart from the 1500 Silverado or Sierra.
Warranties are a concern to buyers that purchase a motor without hearing a unit in operation. Sales that are made online do come with a certain level of risk depending on the company offering the sale. Small and large retailers as well as auction retailers now sell different versions of preowned motors online. To help provide more value, the UsedEngines.co company is offering its warranty extensions for OEM parts with each sale made online or offline.
This new protection level is designed to provide the assurance that buyers demand before installing a motor. The new warranty terms are part of a larger expansion that has taken place at this company over the past 12 months. The domestic and foreign inventory has been upgraded to include multiple variants of engine sizes. The largest upgrade to date was made in the fall of 2012 and the news report of this expansion can be found at this link http://www.prweb.com/releases/used-engines-for-sale/website-domestic-imports/prweb10010071.htm.
The offer for no cost shipping for all in stock motors still applies to the new inventory additions. This removal of the freight cost for each sale was announced during the summer. The success of this program has enabled an extension of this incentive for buyers.
About Used Engines Co.
The Used Engines Co. sells a complete lineup of Ford, Chevrolet, GMC, Toyota and other inventory from its solely owned warehouse. This company now offers one of the largest preowned inventories that can be found online. New additions are added on a weekly basis to help provide a link to buyers in all U.S. states. The Used Engines Co. provides warranty protection, no cost shipping and routine inspections of each motor before delivery to customers. The advancements made in 2012 are expected to continue for this company during the 2013 year.