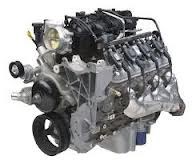 The Vortec series and its V8 editions are popular with truck owners and SUV owners that depend on these daily in preowned vehicles.
Hartford, Connecticut (PRWEB) December 27, 2012
The RemanufacturedEnginesforSale.com company is now offering a discount online for its GMC Sierra 5.3 engine. This variant of the Vortec series is designed to fit inside of the Silverado and the Sierra pickup truck series. The new online discount is expected to help dealerships, vehicle owners, mechanics and warranty companies that purchase rebuilt motors for installation or for resale. More information can be found online at http://www.remanufacturedenginesforsale.com/gmc-gm/gmc-sierra-engine.
General Motors has one of the leading engine development programs in the world. New manufacturing plants are routintely constructed to help build the next generation variants that will be used in the GM vehicle lineup. The Vortec series and its V8 editions are popular with truck owners and SUV owners that depend on these daily in preowned vehicles. The new discounted engines that have been added online are now available for immediate shipment.
The process of rebuilding an engine has been enhanced since the early 1970s. Mechanics that are trained with technological developments are typically the ones that perform the rebuilding work to recondition a used engine. The mechanic staff at the RemanufacturedEnginesforSale.com company is trained in the GM Vortec technology and recent upgrades have made it possible to offer this engine in the OEM state.
The distribution of engine pricing is an additional element that has been changed on the company website. While toll free telephone number quotes are still provided, a new investment into a website quotation system is designed to help those seeking pricing to obtain it faster. This brand new online price generation system provides immediate pricing for any in stock engine during and after business hours.
The 5.3 engine and its different variants now in stock are in addition to other automaker brands that have been acquired by this company this year. The Dodge, Jeep and Ford series have been added to the online inventory and these motors now come complete with unlimited mileage warranties. This measure was created in the fall of this year to provide an extra layer of protection for buyers that purchase these types.
The news release online of this warranty announcement can be found at this link http://www.prweb.com/releases/remanufactured-dodge/engines-for-sale/prweb9854325.htm.
About Remanufactured Engines for Sale
The Remanufactured Engines for Sale company offers a complete line of rebuilt motors from domestic and foreign automakers online. This company has built its engine department for decades and is one of the leading suppliers to the automotive industry for a replacement engine. New warranty programs and discounted pricing have helped this company to reach new buyers online and offline. The Remanufactured Engines for Sale company is staffed by industry experts that provide the professional knowledge that is required to grow an engine company in the 21st century. As of the year 2012, sales are made from this company in all 50 U.S. states and Canada.