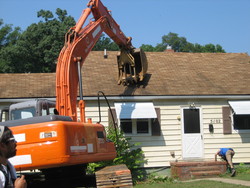 Arlington, VA (PRWEB) February 4, 2010
G&M Contracting (http://www.gmcontracting.com) builds extreme green on "Extreme Makeover: Home Edition" ABC Television's Emmy-award winning hit reality show in the nation's capital. The TV event airs on ABC February 14th at 8pm EST. G&M and thousands of volunteers worked 24/7 for one week to construct one of the most energy efficient homes ever built for the "Extreme Makeover: Home Edition" television show. Some of the green elements of this build are SIPS panels provided by Winter panel , solar electric systems from Aurora Energy , super-insulating full-frame R-value windows by Serious Materials , insulated Concrete Foundation forms from Leep Green.
The home features a geo-thermal heating and cooling system donated by Climate Master (http://www.climatemaster.com), and a hybrid electric heat pump water heater donated by GE . These are just a few of the green materials and providers used on the project. As a result of the green elements, the Hyattsville, MD Extreme Makeover home scored an excellent rating for efficiency through DOE's Builders Challenge program. Special thanks to Mr. Jeffrey Christian of Oak Ridge National Laboratory's (http://www.ornl.gov) for his expert guidance in energy efficient technologies.
G&M Contracting, Inc. is Northern Virginia's premier full-service residential construction firm specializing in high end additions, renovations and custom homes, as well as project planning and feasibility assistance and purchase consultations. Drawing on over fifteen years of experience and proven processes, G&M's team expertly orchestrates home transformations to deliver superior results. Their value-driven planning process, schedule guarantee and five year warranty all contribute to a unique approach designed to ensure the clients' peace of mind and complete satisfaction. Serving clients in Maryland, and Northern Virginia, G&M has won numerous awards for excellence, including an article in Fine Home Building magazine's annual issue. G&M's office is located in Arlington, Va., has 7 employees and their team of skilled professionals includes architects, engineers, designers and specialized craftsmen who work together to deliver the highest possible quality workmanship at an exceptional value. G&M is happy to add Sarah Farrell,AIA of Moser Architects (http://www.moserarchitects.com) to their team of skilled professionals.
For more information, visit http://www.gmcontracting.com or call (703) 807-0122.
###