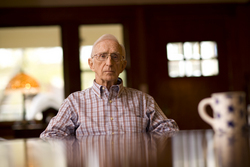 Recent studies found that older women who survived the longest exercised in middle age.
Omaha, NE (PRWEB) March 24, 2010
A recent national survey conducted for the Home Instead Senior Care network found that 74 percent of seniors 65 and older say that staying physically active is a major challenge. Adult caregivers see the problem as well: 81 percent of adult caregivers listed staying physically active as a top challenge for seniors. That challenge led 90 percent of seniors in the survey to report their greatest fear as loss of independence.(1)
The survey revealed seniors have these other fears as well about the future, beginning with the greatest fear and in descending order:
1. Loss of independence
2. Declining health
3. Running out of money
4. Not being able to live at home
5. Death of a spouse or other family member
6. Inability to manage their own activities of daily living
7. Not being able to drive
8. Isolation or loneliness
9. Strangers caring for them
10. Fear of falling or hurting themselves
According to Home Instead Senior Care Co-Founder and CEO Paul Hogan, at least half of the fears on this list could be tied to a senior's inability to remain active. "Loss of independence, declining health, not being able to live at home, inability to manage activities of daily living and fear of falling could all be connected to a senior's problems staying active," Hogan said.
Research confirms the belief that drove Home Instead Senior Care to create the Get Mom Moving public awareness campaign; the notion that staying active is good for the mind and body. Four articles in a January issue of Archives of Internal Medicine, one of the JAMA/Archives journals, add to the mountain of research that finds physical activity can be a major contributor to healthier aging.
These studies found that older women who survived the longest exercised in middle age. Furthermore, exercise helped cognitive skills and added to bone density of senior citizens. One of the studies revealed that moderate or high physical activity appears to be associated with a lower the risk of developing cognitive impairment in older adults after a two-year period. Senior women age 65 or older assigned to an exercise program for 18 months appeared to have denser bones and a reduced risk of falls, another study revealed.
"Many times all seniors need is a little extra help to get moving," said Hogan of Home Instead Senior Care. "And family caregivers can be a big encouragement. That's why we launched the Get Mom Moving campaign and activities -- in an effort to provide encouragement and support to seniors and their family caregivers. This program offers the latest research and a variety of activities that can help keep older adults feeling fit and healthy."
(1) The Boomer Project (http://www.boomerproject.com) completed online interviews with 523 seniors and 1,279 adult caregivers, ages 35-62, with a parent, stepparent or older relative for whom they or someone in their household provides care.
###