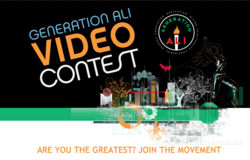 Louisville, KY (PRWEB UK) 27 August 2012
Confidence, Conviction, Dedication, Giving, Respect and Spirituality - these are the six principles that fueled and inspired the life and career of the world's greatest boxing legend, Muhammad Ali. Drawing from the GIVING principle, Generation Ali, a movement by the Muhammad Ali Museum and Education Center, launches a social cause YouTube contest to inspire a new generation to promote giving and working towards a positive change in the world.
Fans are invited to enter the contest by submitting an original video promoting GIVING to the social cause of their choice - from poverty and hunger, to environment, education, violence prevention and beyond. Contest creative categories include song; dance; art; multi-media; poetry; and acting. Prizes include:

The first prize winner receives a trip for two to The Muhammad Ali Center in Louisville, Kentucky.
Generation Ali will donate $1,000 US to the social cause presented in the video of the second place winner.
Special prizes give fans from Louisville, KY the opportunity to showcase their video live at the Muhammad Ali Center for the Louisville Day of Compassion on November 10, 2012.
Last, but not least, North America residents, winners of the Special Art Prize, will have their videos displayed as exhibits at the Muhammad Ali Center.
The Contest is subject to the Generation Ali Video Contest Rules, which can be found at http://www.generationali.org/contest/.
About Generation Ali:
Generation Ali aims to inspire a new generation of leaders to achieve greatness on local, national, and global levels. The Generation Ali movement draws its inspiration from Muhammad Ali himself and the six principles that have guided him throughout his life: Confidence, Conviction, Dedication, Giving, Respect, and Spirituality. To follow the global conversations about greatness and be part of a powerful force of like-minded leaders wanting to work for world peace, civil rights, cross-cultural understanding, interfaith relations, humanitarianism, hunger relief, or the commonality of basic human values, visit http://www.generationali.org today.