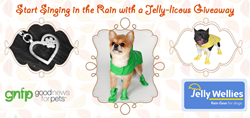 Jelly Wellies is thrilled to paw-ticipate in the 15th anniversary contest series with GoodNewsforPets.com! Just in time for rainy season and winter, we hope the Jelly Wellies will protect your dog from the wet weather from head to paw
New York, NY (PRWEB) November 06, 2015
Just in time for National Animal Shelter & Rescue Week, Goodnewsforpets.com, the pet and veterinary news source, is launching its November contest collaborating with Jelly Wellies, the stylish dog rainwear collection. Three lucky winners will be able to donate to the shelter or rescue of their choice plus win a raincoat and bootie set--perfect for keeping Fido dry during the fall rains, avoiding any wet-dog smell. Winners will also receive the exclusive Goodnewsforpets.com Heart-Paw charm, custom designed by Elena Kriegner as a convertible collar charm turned pendant. The contest begins midnight on November 5th and ends midnight on November 30th. To enter the contest, click here.
Matthew Dweck, President of BH Pet Gear, says, "Jelly Wellies is thrilled to paw-ticipate in the 15th anniversary contest series with GoodNewsforPets.com! Just in time for rainy season and winter, we hope the Jelly Wellies will protect your dog from the wet weather from head to paw!"
The 100% waterproof rainwear protects dogs from the anything the weather brings, including rocks and other potentially dangerous items. The silicon booties are heat resistant and offer grip traction, with velcro straps that easily stay on pup's feet. Each bootie set is available in sizes ranging from X-small to X-large, with the matching raincoat available in up to a size large. Visit the contest page for the full size chart.
Goodnewsforpets.com Founder and Publisher, Lea-Ann Germinder, comments on this latest contest partnership as well, saying, "Since its inception in 2000, Goodnewsforpets.com has been proud to donate thousands of dollars to shelters and rescues in need. Our philosophy is every little bit helps and we encourage pet owners to consider a donation to their local shelter or rescue especially that the cold weather is here. We are pleased to partner with BH Gear to both showcase the colorful Jelly Wellies raingear that protects pets and provides donations to pets in need to bring further attention to rescues & shelters. "
The Jelly Wellies collection is available online in six fun, bright colors. Winners will be able to choose from the three-bestselling colors: fiery red, vibrant yellow, or classic green. Each makes a fashion statement while protecting pup. To learn more about Jelly Wellies visit their Facebook page at or Amazon.
GoodNewsforPets.com covers dog related news, from trends and hot products to veterinary recommendations and advice from professionals working with dogs. To see more news, such as the announcement of the Dog Writers Seminar and Lunch Awards, visit online.
About Jelly Wellies
Whether you're determined to overcome the wet dog smell, or your pup refuses to go outside in the rain, Jelly Wellies will be sure to do the trick. Jelly Wellies' high-quality and stylish rain gear collection is a must this season for four-legged friends looking to stay safe, dry and beat the heat all summer long!
About Germinder & Associates & Goodnewsforpets.com
Germinder & Associates, is an award-winning New York City-based agency that provides strategic counsel, digital publishing content, and national campaigns for niche markets including animal health and pet products. Goodnewsforpets.com features curated news of interest and importance to informed pet parents inclusive of the pet industry and veterinary profession since 2000. For more information contact Lea-Ann Germinder, APR, Fellow PRSA, President and Founder at lgerminder(at)germinder(dot)com or 212-367-2170.