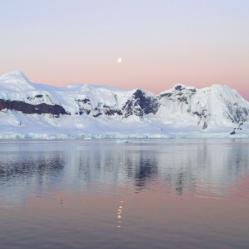 anyone traveling to Antarctica will be awe-struck by the continent's skyscraper-tall icebergs and enchanted by colonies of adorable penguins
Cambridge, MA (PRWEB) December 01, 2011
Go Ahead Tours is excited to offer a new cruise tour to Antarctica. Antarctica Cruise: the Final Frontier not only gives the company a presence on the seventh continent but also enables travelers to check off a popular "bucket list" destination. This itinerary was designed with the experienced traveler in mind, but anyone traveling to Antarctica will be awe-struck by the continent's skyscraper-tall icebergs and enchanted by colonies of adorable penguins.
Antarctica is best accessed by ship, and Go Ahead travelers will cruise to Antarctica aboard the M/V Ushuaia, a refitted research vessel specifically designed for the unpredictable waters of the Southern Ocean. Travelers on this tour will make a brief stop in Buenos Aires before boarding their cruise in Tierra del Fuego. After crossing the Drake Passage, the Ushuaia visits the penguin colonies of the South Shetland Islands before continuing into the straits and channels off the Antarctic Peninsula. Sea and weather conditions will dictate the exact itinerary, but the Ushuaia's experienced crew and naturalists will take every opportunity to make sure travelers experience as much of the jaw-dropping beauty of Antarctica as possible.
Fewer than 35,000 travelers are allowed to visit Antarctica each year, and fewer than 13,000 of those travelers are Americans, according to the International Association of Antarctic Tour Operators. Go Ahead expects the limited space on its three upcoming 2012 and 2013 departures to fill quickly. The Ushuaia is an extremely popular vessel for American travelers—the ship carried nearly a third of all Americans who visited last year—and its specialized design limits the number of sleeping berths; once all cabins are reserved, travelers will have to wait until 2014 for their next chance to see Antarctica.
"Antarctica is on our travelers' bucket lists," said Christy Waller, Go Ahead's Vice President of Marketing & Analysis, "so we're glad to offer this destination again. Since many ships only sail past the continent, it was important that we offer a tour that would let people set foot on Antarctica itself."
Established in 1990, Go Ahead Tours (http://www.goaheadtours.com) offers over 100 high-quality escorted tours around the world to travelers—both seasoned and new—who are looking to learn more about the world and themselves. Committed to breaking down barriers of culture and geography, Go Ahead provides customers with superior quality, exceptional value and an unsurpassed Best Price Guarantee; that is, if you find the same tour for less, Go Ahead will match the price. Go Ahead's parent company, EF Education First, was founded in 1965 and is the world's largest private educational travel company.
###