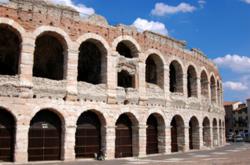 Verona Arena, a stadium renowned for its outstanding acoustics since the days of the Roman empire
Cambridge, MA (PRWEB) September 19, 2011
Cambridge, MA (Go Ahead Tours) September 19, 2011—Go Ahead Tours has unveiled two new itineraries designed to bring travelers to unique cultural events. The two new tours, Verona Opera and Semana Santa, highlight long-running annual events in Italy and Spain and afford travelers the opportunity to participate in these traditions.
Verona Opera: Northern Italy & the Italian Riviera pairs one of Go Ahead's most popular Italy tour packages with a special performance of the opera Carmen in the Verona Arena, a stadium renowned for its outstanding acoustics since the days of the Roman empire. The tour includes visits to seaside Italian towns, a cooking class in Bologna and admission to an open-air performance of one of the world's best-loved operas followed by a champagne toast.
Seville, Madrid & Barcelona: Semana Santa brings travelers to three distinctive Spanish cities with a special focus on Seville. Each year, Seville celebrates Holy Week—"semana santa" in Spanish—with an enormous fiesta; neighborhood associations don colorful costumes and join a massive procession to the city's 500-year-old cathedral as the city's streets come alive with men and women dressed in their Sunday best. The oldest of the neighborhood associations (sometimes referred to as "brotherhoods") dates back to the mid-14th century, and Sevillanos take great pride in their city's one-of-a-kind festival. Before travelers reach Seville, they'll also visit Barcelona, Madrid and Córdoba.
"Since we first began offering Special Event Tours, they have consistently sold out early, and people have begun asking for more unique events and destinations," said Christy Waller, Go Ahead's Vice President of Marketing & Analysis. "These two new tours further bolster our ability to offer unique travel experiences, and we're excited to help our travelers experience destinations like no other tour operator can.
Established in 1990, Go Ahead Tours (http://www.goaheadtours.com) offers over 100 high-quality escorted tours around the world to travelers—both seasoned and new—who are looking to learn more about the world and themselves. Committed to breaking down barriers of culture and geography, Go Ahead provides customers with superior quality, exceptional value and an unsurpassed Best Price Guarantee; that is, if you find the same tour for less, Go Ahead will match the price. Go Ahead's parent company, EF Education First, was founded in 1965 and is the world's largest private educational travel company.
###