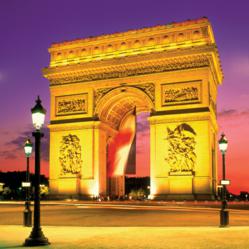 Our expertise allows our travelers to experience a unique side of one of the world's great cities
Cambridge, MA (PRWEB) November 15, 2011
Building on the success of recent anniversary tours to Rome and Dublin, Go Ahead Tours is thrilled to announce its new Signature Series Tours. These deluxe, immersive tours are designed with the experienced traveler in mind but suitable for first-time travelers as well. Each Signature Series tour will feature a single city, but with an emphasis on the hand-selected, uncommon destinations that most tours miss. The first itinerary, Signature Series: Unforgettable Paris, includes a themed sightseeing tour of the city, a visit to the châteaux and vineyards of the Loire Valley, a visit to the Louvre, a look at the life and works of Claude Monet, both at his studio in nearby Giverny and at the Musée de l'Orangerie, and a starlit dinner cruise on the Seine. Travelers can add to their trip with an additional two-night extension in Paris.
"We found that our travelers are not only willing but also eager to return to international destinations two or three times," said Christy Waller, Go Ahead's Vice President of Marketing & Analysis. "Our travelers want to immerse themselves fully in one particular destination, to get a sense for the city beyond the expected sights. Paris has always been one of our travelers' favorite destinations, and since we have long-established business relationships in and around Paris, we're able to offer one-of-a-kind excursions, tours and meals on Unforgettable Paris. Our expertise allows our travelers to experience a unique side of one of the world's great cities."
While Unforgettable Paris was designed for travelers who've already seen the Eiffel Tower and the Champs-Élysées, this tour also appeals to first time visitors of Paris and to travelers who have previously enjoyed Go Ahead's Paris City Stays. Unforgettable Paris also includes unstructured free time, so travelers can delve into Parisian culture as they please.
"You could spend weeks or months exploring Paris and still not see everything," said Waller. "But on our new Signature Series of tours, we provide an insider's glimpse into the heart of an amazing destination."
Established in 1990, Go Ahead Tours (http://www.goaheadtours.com) offers over 100 high-quality escorted tours around the world to travelers—both seasoned and new—who are looking to learn more about the world and themselves. Committed to breaking down barriers of culture and geography, Go Ahead provides customers with superior quality, exceptional value and an unsurpassed Best Price Guarantee; that is, if you find the same tour for less, Go Ahead will match the price. Go Ahead's parent company, EF Education First, was founded in 1965 and is the world's largest private educational travel company.
###