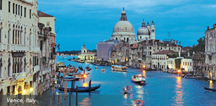 We chose to work with Go Ahead Tours because they offered a broad array of Italy vacations, which was the dream destination of the couple we were surprising
Cambridge, MA (PRWEB) September 07, 2011
Go Ahead Tours has partnered with "The Nate Berkus Show" to give one lucky couple the Italian honeymoon they'd always dreamed of. On yesterday's episode, Paul and Jillaine Comardo of Aberdeen, NC were surprised with a 12-day honeymoon to Venice, Florence & Rome.
When "The Nate Berkus Show" planned an episode around helping empty-nesters rekindle their romantic relationships, Executive Producer Corin Nelson sought a tour operator with deep experience and top-notch local Tour Directors in Italy. Go Ahead Tours came to mind. "We chose to work with Go Ahead Tours because they offered a broad array of Italy vacations, which was the dream destination of the couple we were surprising," said Nelson.
Although the Comardos have been married for 27 years, Paul planned to "take a knee [and re-propose], because I hadn't done that the first time." Earlier in the episode, Berkus and guests Lisa Oz and Colin Cowie showed the couple how to reignite the passion in their relationship and how to plan an Italian-themed anniversary party. Paul thought the segment would end with him re-proposing to Jillaine, and they were both shocked to learn that they'd be traveling to Italy courtesy of Go Ahead Tours. "I looked at him like, 'What!?'" said Jillaine. "We were hugging and crying and I thought 'Dear god, we're going to Italy!'" The Comardos say they're looking forward to exploring the architecture of Rome and reconnecting with Jillaine's family members in Naples.
"We're excited that 'The Nate Berkus Show' chose to partner with us to bring one couple's dream Italy vacation to life," said Christy Waller, Go Ahead's Vice President of Marketing & Analysis. "We've always had a strong presence in Italy, and we think our tours of Italy are the best on the market. It's nice to know that Nate—a man known for his exquisite taste—thinks so too."
Established in 1990, Go Ahead Tours (http://www.goaheadtours.com) offers over 100 high-quality escorted tours around the world to travelers—both seasoned and new—who are looking to learn more about the world and themselves. Committed to breaking down barriers of culture and geography, Go Ahead provides customers with superior quality, exceptional value and an unsurpassed Best Price Guarantee; that is, if you find the same tour for less, Go Ahead will match the price. Go Ahead's parent company, EF Education First, was founded in 1965 and is the world's largest private educational travel company.
###