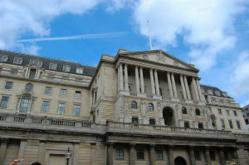 El Segundo, CA (PRWEB) November 01, 2012
A trip to the bank can be a nerve-wracking experience for bank customers hunting for affordable auto or mortgage loans, or disputing ghoulish checking account overdraft fees. But some banks are all-out frightening for another reason: they're haunted.
Go Banking Rates compiled a list of the world's top "financial phantoms" lurking within haunted banks that turns banking into a supernatural adventure.
In its investigation, Go Banking Rates uncovered eyewitness accounts of the strange occurrences and apparitions of these historic banks. One account describes a ghostly figure of a man seen at the Old Town Spring Bank.
"To me, it looks as if he's wearing a brown, 1930s-style hat," shares an eyewitness from HollowHill.com. "Below the circle, I can see the outline of shoulders, a tall white collar, and it looks as if he's wearing a brown suit jacket."
The list of top seven haunted banks in the world includes:
1. Old Town Spring Bank in Texas
2. Commerce Bank in New Jersey
3. Mississippi Old Bank and Trust in Mississippi
4. Underground Bank in Washington
5. Bank of Montreal in Canada
6. Coutts Bank in England
7. Bank of England in England
These are just a few of the thousands of haunted banks in existence today. Luckily, for those who are squeamish when it comes to the spooky tales and eerie apparitions can enlist with online banks instead to avoid crossing the threshold of the paranormal.
Click here to see the full article.
About Go Banking Rates
Go Banking Rates (GoBankingRates.com) a national website dedicated to connecting readers with the best interest rates on financial services nationwide, as well as informative personal finance content, news and tools. Go Banking Rates collects interest rate information from more than 4,000 U.S. banks and credit unions, making it the only online rates aggregator with the ability to provide the most comprehensive and authentic local interest rate information. Go Banking Rates also regularly publishes expert advice from personal finance professionals.
GoBankingRates.com is a division of ConsumerTrack, Inc., an 8-year leader in online lead generation, performance-based marketing, and customer acquisition in the financial, insurance and credit sectors. The company's portfolio of 1500 finance websites includes GoBankingRates.com, GoInsuranceRates.com, and GoFreeCredit.com. These sites receive more than 2 million visits each month.
For questions or comments, please contact:
Jaime Catmull, Director of Public Relations
http://www.GoBankingRates.com
JaimeC (at) GoBankingRates (dot) com
310.297.9233 x261
###