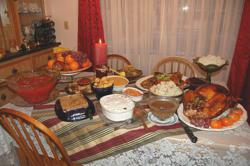 Create a budget for your meal ahead of time, check your weekly circulars to find out which retailers are offering the best deals, and don't be afraid to clip coupons.
El Segundo, CA (PRWEB) November 12, 2012
In less than two weeks, Americans will be joining friends and family over Thanksgiving dinner to celebrate the things in life they are most thankful for. While many would be thankful just to find employment before the holidays, even those on the tightest of budgets can use the 12 tips recently released by Go Banking Rates to cook a Thanksgiving meal that doesn't put their budgets at risk.
Go Banking Rates expert contributor provides 12 different things consumers can do to reduce the cost of Thanksgiving dinner staples, including turkey preparation, sides, desserts and even drinks. In addition to these various cost-cutting measures, Go Banking Rates also offers a host of recipes that use low-cost ingredients, ensuring that budget-conscious Americans are still able to participate in one of the country's most treasured and important holidays.
Click here to get the tips and recipes.
About Go Banking Rates
Go Banking Rates (GoBankingRates.com) a national website dedicated to connecting readers with the best interest rates on financial services nationwide, as well as informative personal finance content, news and tools. Go Banking Rates collects interest rate information from more than 4,000 U.S. banks and credit unions, making it the only online rates aggregator with the ability to provide the most comprehensive and authentic local interest rate information. Go Banking Rates also regularly publishes expert advice from personal finance professionals.
GoBankingRates.com belongs to a network of more than 1500 finance websites, including GoInsuranceRates.com and GoFreeCredit.com. These sites receive more than 2 million visits each month.
For questions or comments, please contact:
Jaime Catmull, Director of Public Relations
http://www.GoBankingRates.com
JaimeC(at)GoBankingRates(dot)com
310.297.9233 x261
###