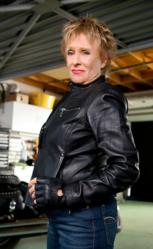 To be recognized for our continued efforts to engage our greatly valued small business customers is such a meaningful accomplishment
Herndon, VA (PRWEB) June 23, 2011
Network Solutions® received the second annual Social Media Award for Best Use of Viral Video from the Social Media Committee (SMC) of the Northern Virginia Technology Council (NVTC), the membership and trade association for the technology community in Northern Virginia and largest technology council in the nation.
NVTC SMC recognized Network Solutions for the success of its Go Granny viral video campaign. A parody video released during Super Bowl weekend, the campaign satirized "domain name girls" while promoting Network Solutions' product offerings. The popular video starred Academy Award winner Cloris Leachman. Through targeted blog and Twitter outreach, the video successfully engaged small business owners and key influencers, including top-tier blogs and traditional media outlets, resulting in nearly 50 million impressions. The campaign led to a 500 percent increase in .CO domain sales for the company. These efforts were supported by Network Solutions' public relations and marketing agency of record, CRT/tanaka.
"We are thrilled that the NVTC SMC has honored us with this award," said Sanjay Gupta, Vice President of Network Solutions. "Now that videos have become widely popular as a means of branding and messaging - it helps to deliver key message with a touch of humor. To be recognized for our continued efforts to engage our greatly valued small business customers is such a meaningful accomplishment."
The Northern Virginia Technology Council Social Media Committee's awards program is dedicated to recognizing commercial and government organizations that have successfully implemented innovative and unique social media programs. This year's program included four categories and winners were selected by three judges, all social media enthusiasts in the DC area, including Amber Harris with Discovery Communications; Andrew Bates with EyeTraffic/Penton Media; and Nicole Nolte of Welz & Weisel Communications.
About the Northern Virginia Technology Council Social Media Committee
The mission of the NVTC SMC is to embrace this new medium and adapt to its ever changing environment. Through educational forums and insightful dialogue with NVTC members, the Social Media committee is a valuable resource for those in the Northern Virginia technology community who want to use social media tools to improve how they communicate with key audiences. While there is a need to understand more about the tools that make up the social media landscape, most importantly, it is about what tools are the best fit for businesses and how they fit into a company's overall goals. NVTC's Social Media committee addresses these very issues that are top-of-mind with all organizations.
About Network Solutions ®, LLC
Network Solutions, the leading provider of online solutions for small businesses, offers a full range of services including search engine marketing, web hosting, web site design, e-commerce, SSL certificates, e-mail and domain name registration services. Network Solutions® draws on 31 years of experience to make it simple and affordable for customers to build and manage an online presence through a one-stop Web Solutions provider. Additional information about Network Solutions' offerings is available at about.networksolutions.com.
###