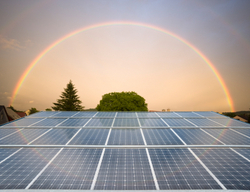 With the current climate crisis, it is becoming more important that each one of us do everything we can, every day, to help the Earth and the environment.
Bend, OR (PRWEB) December 31, 2009
Go Green Solar Energy is pleased to announce the official opening of their new website, Go-Green-Solar-Energy.com which offers simple, easy to understand information on the benefits of using solar power at home and in daily life.
"With the current climate crisis, it is becoming more important that each one of us do everything we can, every day, to help the Earth and the environment" says M.S. Rochell, editor of the site.
"Our mission is to provide useful information on the advantages of solar energy and to help ordinary people to learn how to affordably access the savings and clean energy that solar power can provide".
Although solar power for homes is not yet widely available, new technological advancements are being made now that are creating opportunities for even ordinary citizens to begin to use solar power technology in their daily lives.
The focus of Go-Green-Solar-Energy.com is on helping people to find affordable ways to use solar energy, and to provide education about the different options available for creating home solar power systems, including those that make use of cheap solar power, solar energy grants, building solar panels, and "do it yourself" diy solar power resources.
"Go Green Solar Energy hopes to inspire and educate people so that each one of us can discover even small ways to contribute to making a healthier world for our children and grandchildren" said M.S. Rochell, a lifelong environmental enthusiast.
"Consider the impact if everyone on the Earth would switch from using disposable batteries to using rechargeable batteries with a solar batter charger. This is a simple, affordable solution that doesn't require a lot of time. what each one of us does to help the environment makes a difference! "
Free Solar Power eBooks
The site offers several useful eBooks and a growing resource library of free solar energy information in their affordable solar energy section which are available free of charge from the site.
Some of the books and information currently available include:

Residential Solar Panel Basics
Build a Passive Solar Water Heater
Build a Homemade Wind Generator
Build Your Own Electric Car
A Free Solar Hot Air Do It Yourself Manual
Where to meet and share information with others who are using DIY solar power
Where to find solar power grants
Free grant writing software
Additional options for financing home solar systems
Energy tax incentives for businesses
Frequently updated new affordable solar energy sites and resources
Some of the additional information resources available on the site include:

Tips on Going Green
What Is Solar Energy?
Solar Energy Advantages and Disadvantages
Solar Energy History
Passive Solar Energy
Solar Appliances
Solar Power Lights
Solar Panels
Portable Solar Power Devices
Solar Power Homes
The site also has available an area where visitors can share their own experiences using solar energy and solar power for homes. Future plans for the site include a free solar energy directory, expanded DIY solar power resources and updates as new solar power technologies become available.
###