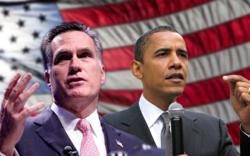 EL SEGUNDO, CA (PRWEB) November 05, 2012
Though the two presidential candidates sparred over the Dodd-Frank Wall Street Reform and Consumer Protection Act in a recent debate, some analysts still don't believe Obama and Romney have paid enough attention to the slagging U.S. housing market. Even so, Go Banking Rates finds that the results of Tuesday's election could have a significant impact on future U.S. mortgage rates – and positively.
Despite what some think, no president will ever improve the economy single handedly. However, market conditions can be influenced by election results, which can, in turn, affect how interest rates move. This is important for those who are considering buying a home soon, as record-low interest rates could stick around longer after the election.
When it comes to Obama's influence on mortgage conditions, it has been noted that Democrats demand more regulation on markets, and that can cause a mass selling of stocks. As a result, those monies may shift over to mortgage bonds, which means lower mortgage rates.
On the other hand, GOP policies tend not to be as restrictive on market regulations, which could spell good news for the market in general, allowing for greater consumer confidence, an improved economy and a "cashing-in" of bonds, which may cause a slight rise in interest rates.
In the end, it will probably be up to consumers to sway the housing market with their dollars, regardless of election results. Basing the decision to buy a home on a possibility the election could cause a minor change in interest rates is a poor strategy.
Click here to see the full article.
About Go Banking Rates
http://www.GoBankingRates.com a national website dedicated to connecting readers with the best interest rates on financial services nationwide, as well as informative personal finance content, news and tools. Go Banking Rates collects interest rate information from more than 4,000 U.S. banks and credit unions, making it the only online rates aggregator with the ability to provide the most comprehensive and authentic local interest rate information. Go Banking Rates also regularly publishes expert advice from personal finance professionals.
GoBankingRates.com belongs to a network of more than 1500 finance websites, including GoInsuranceRates.com and GoFreeCredit.com. These sites receive more than 2 million visits each month.
For questions or comments, please contact:
Jaime Catmull, Director of Public Relations
http://www.GoBankingRates.com
JaimeC(at)GoBankingRates(dot)com
310.297.9233 x261
###