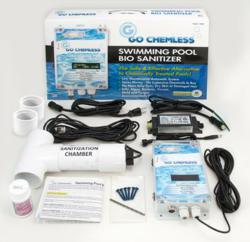 linking Chlorine to varies cancers, it was only a matter of time
Fort Lauderdale, FL (PRWEB) May 08, 2012
Go Chemless Inc, the company known for developing and offering swimming pool owners a healthier way to sanitize their swimming pool with the use of natural ions and modern day computing power, unveiled the newest member of their swimming pool Bio Sanitizer line at most recent Florida Swimming Pool Association's show for the West Palm Beach Market Place 2012 event.
Go Chemless released a new version of their Swimming Pool Bio Sanitizer, tagged as the 138MS. The Swimming Pool Bio Sanitizer offers pool owners a better and safer way to keep their pool clean and sanitized. The 138MS uses a micro-processor computer to deliver precise amounts of elemental ions into the swimming pool to prevent algae, bacteria, viruses, mold and fungus from taking over the swimming pool. Unlike chlorine which breaks down very quickly, the Go Chemless ions are available for bio sanitization over and over again.
Go Chemless's co-founder and chief engineer Michael Self said, "It has been really great to see the huge market demand from consumers wanting to be more green by getting away from Chlorine and Saltwater Pool Systems. I believe that public awareness is finally hitting the pool owners market, with all the scientific studies that have been coming out lately, linking Chlorine to varies cancers, it was only a matter of time." Michael went on to say, "For years we have been buying our drinking water in bottles because all of the dangers and illness that Chlorine causes and yet only a few people think twice about jumping into a swimming pool of Chlorine, Trihalomethanes and other Organo-Cancer causing agents."
The Go Chemless Swimming Pool Bio Sanitizer is sold in most pool stores and pool services. If your local pool store does not carry the Go Chemless Swimming Bio Sanitizer, contact the company directly to find the closets dealer in your area.
About Go Chemless:
GoChemless' mission is to bring to market quality, technological solutions to reduce exposure to harmful chemicals in swimming pools. Go Chemless has pioneered the use of multiple electrode base elements and measured multi-electrode electrolysis to achieve the pool industry's first bio sanitizer with "set it and forget it" intelligence. This combination of revolutionary green technology and leading edge computing to battle viruses, fungi, bacteria and algae found in all pools, while reducing or eliminating the use of harmful and dangerous chemicals.
For company contact information and partnership opportunities, visit http://www.GoChemless.com
For More information:
Liz Kimbers
Liz.Kimbers(at)GoChemless(dot)com
(855) 424-3653 Toll-Free