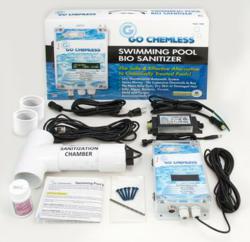 The pool industry's first bio sanitizer with "set it and forget it" intelligence.
Fort Lauderdale, Florida (PRWEB) February 05, 2013
Go Chemless Inc., manufacturers of eco-friendly residential swimming pool bio-sanitizers was featured in a 3 minute news segment which aired on WPBF, ABC affiliate in West Palm Beach, FL on February 4th 2013. The news story focused on the hazards of pool chemicals and chlorine in particular and how Go Chemless can be a part of reducing exposure to these harmful chemicals.
Go Chemless' co-founder and chief engineer Michael Self stated, "I think that Ms. O'Toole has done a fantastic job of researching the topic and presenting her findings. Pool owners are increasingly looking for alternatives to being exposed to toxic chemicals such as chlorine, acids and salt water chlorination."
The Go Chemless system is the central component of a low-chem approach to swimming pool maintenance. By using the natural Biocidal properties of copper and silver, the Go Chemless system is able to increase the "killing power" of chlorine by up to 90%, thereby reducing the amount of chlorine needed in pools by a like amount. Residential pools will use up to 90% less chlorine, acids and other chemicals and commercial pools will use up to 60% less. Says Self, "It's a win-win for pool owners and swimmers alike. It saves money in chemical costs and saves your body from exposure to cancer-causing substances, acids and caustics."
Self went on to say "What I'm truly concerned about is the number of pool owners who believe that a 'salt water pool' does not contain chlorine, when in fact, it usually has higher concentrations of chlorine than manually service pools! People with whom I have met and educated are shocked to find out that they were still swimming in high levels of chlorine."
The news segment can be viewed at the following link: http://gochemless.com/go-chemless-in-the-news-wpbf-abc/
About Go Chemless:
Go Chemless' mission is to bring to market quality, technological solutions that reduce exposure to harmful chemicals in swimming pools. Go Chemless has pioneered the use of multiple electrode base elements and measured multi-electrode electrolysis to achieve the pool industry's first bio sanitizer with "set it and forget it" intelligence. This combination of revolutionary green technology and leading edge computing is the first of its kind to battle viruses, fungi, bacteria and algae found in all pools, while reducing or eliminating the use of harmful and dangerous chemicals.
The Go Chemless Swimming Pool Bio Sanitizer is sold in pool stores and through pool maintenance companies. If your local pool store does not carry the Go Chemless Swimming Pool Bio Sanitizer, contact the company directly to find the closest dealer in your area.
For company contact information and partnership opportunities, visit http://www.GoChemless.com
For More information:
Liz Kimbers
Liz.Kimbers(at)GoChemless(dot)com
(855) 424-3653 Toll-Free