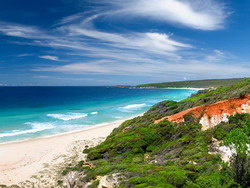 Australia... Why GO anywhere else?
(PRWEB) October 27, 2010
With the launch of GO Accommodation's new website, users can easily search for, enquire about and book a huge range of holiday accommodation and exclusive hotel deals all year round. Whatever holiday you can imagine, GO Accommodation will have a beachside resort, spacious apartment or city hotel perfect for your holiday requirements.
At the beautiful Gold Coast in the sunshine state of Queensland, you can enjoy expanses of pristine beaches and watch surfers tame the waves or take the plunge yourself. And just a short drive to the Gold Coast hinterland, you'll feel as though you're far away from everything. With miles of surf beach, lush green rainforest, world-class golfing greens and world-famous theme parks, the Gold Coast truly offers something for everyone.
The Towers Of Chevron Renaissance is GO Accommodation's featured property of the year and offers the perfect base from which to explore all that Surfers Paradise on the Gold Coast has to offer. From its central location in Surfers Paradise guests are within walking distance of many restaurants, cafés and attractions with many others accessible by private vehicle or tour.
If you're still wanting a beach holiday but prefer something a little more relaxed, then the Sunshine Coast is for you. The Sunshine Coast offers kilometres of golden beaches as well as a beautiful and diverse hinterland. Each town has its own unique personality and individual style with a range of accommodation options to match every mood, occasion or budget. Perhaps you would like to stay in a cozy cottage or cabin with hinterland views or would enjoy a romantic weekend in a luxurious beachfront resort or maybe you prefer a self contained apartment for a fun filled family holiday. Whatever your style, the Sunshine Coast will be sure to leave a lasting impression.
Would you prefer a holiday in the city? Sydney is set on a beautiful harbour and is famous for its iconic landmarks like the Sydney Harbour Bridge, the Opera House and Bondi Beach. It also has a vibrant mix of cafés and restaurants and a carefree, outdoor lifestyle. The city's underground railway makes it easy to get around, with shopping, restaurants, cafe's, lots of attractions and sightseeing.
With professional Australian travel help and exclusive holiday deals from GO Accommodation, why would you GO anywhere else?
Visit the website to view more information about this beautiful country and feel free to give GO Accommodation a call to discuss your travel requirements.
###