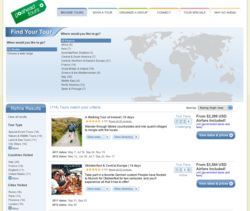 The changes allow travelers to quickly find available departure dates and filter their search results by destination, tour type, tour pace, tour duration, countries visited and ratings generated by previous travelers
Cambridge, MA (PRWEB) May 11, 2011
Go Ahead Tours has launched a new and improved way to browse tours on their website designed to help prospective travelers find the vacation package that is the best fit for them. The changes allow travelers to quickly find available departure dates and filter their search results by destination, tour type, tour pace, tour duration, countries visited and ratings generated by previous travelers. Pop-up maps let travelers quickly see an overview of where a tour will take them, and links to more detailed tour itineraries are designed in an intuitive and user-friendly way.
You can try out Go Ahead Tours' new search capabilities at http://www.goaheadtours.com/search/
The search upgrade is part of a broader effort to empower travelers to shop online, according to Lynne Sarao, Go Ahead's Director of Marketing: "Trends indicates that while traditional marketing methods remain important, our travelers are increasingly comfortable with researching and purchasing tours online. As our travelers have become savvier on the internet, we've created a more robust search functionality. Our tours still offer the same immersive experiences our travelers have come to expect; now, it's even easier for travelers to find a tour and determine if it's right for them."
Established in 1990, Go Ahead Tours (http://www.goaheadtours.com) offers over 100 high-quality escorted tours around the world to travelers—both seasoned and new—who are looking to learn more about the world and themselves. Committed to breaking down barriers of culture and geography, Go Ahead provides customers with superior quality, exceptional value and an unsurpassed Best Price Guarantee; that is, if you find the same tour for less, Go Ahead will match the price. Go Ahead's parent company, EF Education, was founded in 1965 and is the world's largest private educational travel company.
###