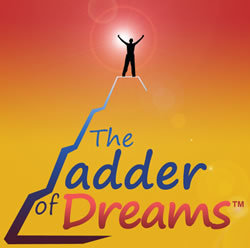 Most people tend to set goals that are inspired by someone successful. Next, they try to recreate the success by following the successful person's footstep (following their success plan)
Singapore (PRWEB) December 13, 2007
James Soh recently announced the launch of a revolutionary Goal Setting Tool - The Ladder Of Dreams, which offers to help people customize their roadmap step-by-step towards achieving their goals.
"In the past, I struggle with each and every goal setting exercise and usually I never reach what I originally set out to achieve," creator James Soh said. "But through the years of trails and errors, I have developed a tool simple enough that even a 6-year-old could understand and use it to plan and achieve their goals."
The Ladder Of Dreams is a goal setting tool that guides you in filling the "gaps" between defining a goal and planning out what has to be done to get there. The tool revolves around building a plan that fits the circumstances of the person defining the goal. There are mechanisms and processes that will help them focus on activities that move their goals forward while removing distractions and obstacles.
"Most people tend to set goals that are inspired by someone successful. Next, they try to recreate the success by following the successful person's footstep (following their success plan)," explained James Soh. "What they do not realized is that their circumstances may well be different from that inspiring person's situation and hence the plan might not work if copied wholesale."
The Ladder Of Dreams is currently made up of 2 separate components -- The Ladder Of Dreams Essential and The Ladder Of Dreams Companions.
The Ladder Of Dreams Essential consists of a goal setting template and an instructional manual. This is all that is necessary to start creating customized plans to achieve your goals. The Ladder Of Dreams Essential can be downloaded at The Ladder Of Dreams and it is free to use.
The Ladder Of Dreams Companion was planned as a collection of ebooks to help people harness the potential of The Ladder Of Dreams. The first book of the series, The Ladder Of Dreams Companion Guide, has just been released and is available from the same site.
"December is generally the time of the year where we review our achievements for the past year, review and plan new goals for the New Year. It is my wish that everyone can achieve his or her goals in the New Year with The Ladder Of Dreams," James said.
For more information, please visit http://www.secretofunlimitedprosperity.com .
About The Author:
James Soh is the author of Visualized.Feel.Abundance, a blog he started with his wife Karen in April 07 where they share about how to stay positive and pursue your dreams. James is a software engineer by training but struck out on his own three years ago to pursue his dreams. He now shares his learning experiences from those 3 years and beyond with his readers on his blog. For more information, please visit Visualized.Feel.Abundance.
###