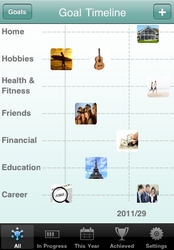 With the goal timeline people can plan what needs to happen first, in which year and even at what age. It is great for seeing how your goals fit together
New York, NY (PRWEB) September 15, 2010
Goal Achiever is now available to help iPhone, iPad and iPod touch users achieve their life goals and is featured as New and Noteworthy on the Appstore in Australia. This unique app will help manage long-term goals into short-term steps with the intuitive Goal timeline.
Goal Achiever will help build success in life by allowing people to:

Capture their life goals and set objectives
View their goals and their success achieving their goals, using the intuitive goal timeline and goal list.
Select a photo to inspire them to achieve each goal
Establish a goal start date and end date and capture a status to help manage goals over time
Break the goal into achievable steps and schedule tasks
Goal Achievers can keep their goals and their progress achieving them on hand at all times on their iPhone, iPad or iPod touch.
Erryn McRae I.T consultant and Goal Achiever co-creator commented, "With Goal Achiever I wanted to design a positive, useful application that takes advantage of the amazing leap in technology integration that the iPhone, iPod Touch and iPad has made accessible to so many people around the world. Goal achiever is designed specifically for managing long-term goals such as buying a house or planning a trip around the world. With the goal timeline people can plan what needs to happen first, in which year and even at what age. It is great for seeing how your goals fit together. In the past, I had to draw the Goal timeline for myself on paper. I am now happy to have an app on my iPhone that does this for me and that I can share with people around the world."
For more Goal Achiever Features and to purchase the Goal Achiever app visit the Appstore.
###