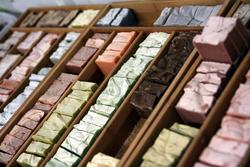 We introduce soaps and other new products because we believe in them and use them. We only market products that our family uses and that we would consider a good value.
Charlestown, IN (Vocus) October 13, 2010
Goat Milk Stuff™ is experiencing a sharp increase in consumer interest in its complete array of GMS goat milk soaps during the past year as people seek natural, creamy, value-priced alternatives to commercial soaps, said PJ Jonas, co-founder of the family business and Mom of eight.
"What started as a hobby making soaps for our eight children to use rather than harsh chemical-laden soap and bath products, has turned into a national business for us. Our website, http://www.GoatMilkStuff.com, and the stores carrying our Goat Milk Stuff™ products have seen a surge of consumer interest in our homemade, natural goat milk products," she said.
PJ and her husband, Jim, run the family business with the support of their eight children, aged 3 to 13. Each of the children does chores related to the business as a way to earn money, learn about entrepreneurship, and help the family.
Goat Milk Stuff soaps, marketed online at GoatMilkStuff.com, range in price from $5 to 6.50 for each 5 ounce bar. Each full size bar of Goat Milk Stuff soap is wrapped in an environmentally-friendly, natural cotton bag. Smaller soaps sizes are also available and come unwrapped.
PJ Jonas said, "From our top selling Oatmeal Milk & Honey, Black Raspberry, and Honeysuckle soaps to our exclusively GMS essential oil soaps such as Lavender, Rosemary Mint, and Tea Tree, each soap offers a unique scent and is luxuriously creamy and unsurpassed in its ability to leave skin clean and wonderfully moisturized. For those who prefer no fragrance, we also offer unscented Purity, Purity Scrub, and Organic Castile goat milk soaps."
Jim Jonas added, "We introduce soaps and other new products because we believe in them and use them. We only market products that our family uses and that we would consider a good value."
PJ started soapmaking after she became concerned about the chemical ingredients in shampoos and bath products used by her children. With the help of her husband and children, she created a business that now provides natural body care products to customers in America and worldwide. Recent news media reporting the family's business success included Business Week Magazine at http://tinyurl.com/36blp2d.
The Goat Milk Stuff business has experienced strong growth in the past year, explained PJ Jonas. She adds, "What started as one batch of goat milk soap for our children has grown into our family business that now ships product to all 50 states in America, and around the world as well."
Jim and PJ run Goat Milk Stuff and get help from daughters Brett, Indigo and Jade, who often bag goat milk soap for customers, and from sons Colter, Emery, Fletcher, Greyden and Hewitt, who milk the goats. All the children, from oldest Brett to youngest Jade, enjoy tending the goats, especially the newborn goat kids.
Jim Jonas said, "At Goat Milk Stuff, we are proud to make some of the best goat milk soaps on the market. We are grateful to our loyal customers and welcome our new customers as we provide them with great products at reasonable prices, while adhering to our philosophy: Work Hard. Get Dirty. Use Good Soap."
Goat Milk Stuff™ is based in Charlestown, Indiana, and markets natural goat milk soaps. Goat Milk Stuff™ and GMS™ are trademarked brands and assure the finest quality of product and value. Look for Goat Milk Stuff™ Goat Milk Soaps, GMS Lip Balms, GMS Lotions, GMS Bath Bombs and GMS Laundry products that are environmentally-friendly and produced, marketed and priced responsibly to offer consumers the finest Goat Milk Soaps and related bath products in America.
Online at http://www.GoatMilkStuff.com, the Jonas' company markets a full range of products that are quickly shipped directly to consumers. The Goat Milk Stuff™ website also lists retail stores across America where shoppers can find Goat Milk Stuff™ products. Media contact is Brian Dobson at DobsonPR.com or bd (at) dobsonpr (dot) com.
# # #