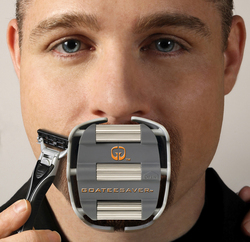 Then we graduated to plaster. There were times I would literally have only a small hole to breathe through.
Little Rock, Ark. (PRWEB) April 20, 2009
"Have you ever wanted a perfect goatee? Now you can have one with the GoateeSaver." For the next four weeks, those smooth sounding words will be echoed over the airwaves in several cities across the country and on the internet. The Little Rock, Arkansas company that created a unique shaving template for guys with goatees has just released its first infomercial. The one minute spot touts the GoateeSaver as a brand new, budget-friendly shaving device that promises to give men the perfect goatee - every time they shave.
The GoateeSaver is the brain child of Scott Bonge and his wife, Christy. The husband and wife entrepreneur team released the one-of-a-kind shaving template last year in June after developing it for two years. They started with the basics.
"At first, we started with Play-Doh. (Christy) would literally mold it over my face," Scott said. "Then we graduated to plaster. There were times I would literally have only a small hole to breathe through." The Bonges threw in a few Popsicle sticks here and there and 10 molds later, took their creation to the first of several engineers. "They basically told me I couldn't do it because it was 'too complicated,'" he said.
But Bonge, who is no stranger to adversity, did not give up. The man who found himself in the unemployment line after making a six-figure income invested his own time and money, made a few tweaks here and there, and ultimately gave birth to the GoateeSaver. He established the website http://www.goateesaver.com and started selling his product online. Now, for just $19.99 - any man, with any sized face, can have a perfect goatee every time he shaves. "Not only was it important for me to invent this product, it was also important for me to make it affordable enough for people to buy," Bonge says.
The GoateeSaver no longer looks anything like a child's art class creation. Today, as the infomercial proudly displays, the invention is plastic, sleek and refined. It even moves up and down and the sides adjust thanks to its chrome plated turnbuckles. Some say it looks like a cross between a football player's mouth guard and something Hannibal Lecter wore in "Silence of the Lambs." "It definitely isn't pretty," Scott says. "And while it might not be something you want other people to see you using, everyone I talk to who uses it says they don't mind being seen with the great goatee they get with the GoateeSaver."
Unique look and all, the GoateeSaver has made waves since its June debut at Inpex, America's Largest Trade Show for New Inventions. It was there the product won its first award. It received a Bronze Medal in the Personal Care category after being among more than 800 inventions that were shown and judged by national and international judges.
In December, the company received its second honor after being recognized by StartupNation as one of the top businesses in its annual Home Based 100 competition under the "Most Innovative" category. Thousands of businesses entered this competition, which was judged by some of the nation's top entrepreneurs and people in business.
The award-winning mouthpiece is now profiled on more than 1,500 websites, and has been featured on several radio talk shows, television stations, newspapers and magazines around the globe. It has even made a guest appearance on late night talk show host Jay Leno's chin and created a buzz after appearing on E! Entertainment's Talk Soup.
The infomercial, which is already airing on YouTube, will start airing on television in the Little Rock, Ark., Fort Smith/Fayetteville/Springdale/Rogers, Ark., Tulsa, Okla., Roanoke, Virg., and the Las Vegas, Nev. markets during the last week of April.
"Right now we're testing the waters and we'll see how it goes," Scott says. "Infomercials must work. Every time I turn on the TV, Billy Mays is screaming at me to buy something. Then there was that Snuggie commercial. I just got tired of seeing everyone else's products being sold on television when I have a great one, too. My only regret at this point is that Billy has a beard. Otherwise, he'd be the perfect pitchman for the GoateeSaver."
For more information, or to schedule an interview with Scott, please call (717) 676-8327.
About The GoateeSaver Company, LLC
The GoateeSaver Company, LLC was officially established in February 2008 and is a member of the Arkansas Better Business Bureau, the Little Rock Chamber of Commerce and the Women's Business Enterprise National Council (WBENC). The company operates as a woman-owned business and has five employees. The company's goal is to change the way men groom - one goatee at a time - by providing a high quality, well-made, affordably priced product all men can use to cut their grooming time and ultimately create the perfect goatee.
###