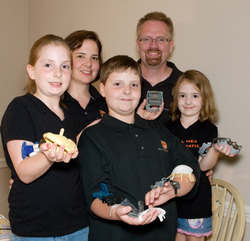 If it ended up crooked, I would just shave it off. So one day I thought, if I've got this issue, other guys have to have the same problem.
Little Rock, Ark (PRWEB) July 28, 2008
How many times have you come up with an invention you know would change someone's life then never did anything with it? An Arkansas man is living proof it's never too late to dust off your dreams, and he's on a mission to show people it can be done.
Scott Bonge, of Little Rock, started his dream with children's playing dough, plaster, and Popsicle sticks. While not many people would try to find their fortune in such simple things, Bonge will tell you the three may just become the building blocks to his success. Going back a few years, his idea was simple enough; come up a device that would help him create the perfect goatee.
"I was tired of being frustrated with trying to get my own goatee even on both sides of my face," he said. "If it ended up crooked, I would just shave it off. So one day I thought, if I've got this issue, other guys have to have the same problem."
At that moment, Bonge became set on figuring out how to make this perfect shaving contraption. His wife, Christy, became his helper. "At first, we started with Play-Doh. She would literally mold it over my face," Scott said. "Then we graduated to plaster. There were times I would literally have only a small hole to breathe through."
Ten molds later, Bonge had what he thought would work. His next stop: an engineer. But the first few told him he was wasting his time. "They basically told me I couldn't do it because it was 'too complicated,'" he said.
But Bonge, who is no stranger to adversity, didn't give up. The man who had recently gone from a six-figure income to the unemployment line invested his own time and money, made a few tweaks here and there, and ultimately gave birth to the GoateeSaver. "It's a big undertaking, not just financially, but emotionally, physically and time wise," he said. "Every step you take is a learning process."
The GoateeSaver no longer looks anything like the child's art class creation it once did. Today, the invention is plastic, sleek and refined. It even moves up and down and the sides adjust, thanks to its chrome turnbuckles. Some say it looks like a cross between a football player's mouth guard and something Hannibal Lecter wore in 'Silence of the Lambs.'
The GoateeSaver's release to the public in June was anything but quiet. The unique mouthpiece has become radio talk show material across the country. It's made a splash on several gadget websites, and has even made a guest appearance on late night talk show host Jay Leno's chin.
But Bonge's road to success is just the beginning of his journey. He is a regular guy who believes in giving back, and he wants to show others it takes determination and believing in yourself to succeed. His message to others: follow your dreams.
Now, Bonge is out to show people across the country they can make a difference. He is taking his invention, and message, on a cross-country tour. Starting August 1, 2008 and ending August 31, 2008, Bonge will be driving town-to-town. His goal is to meet as many people as he can, inspire others and get the word out about a contest he's having on his website. His company is searching for the "Nation's Ugliest Goatee." The winner gets a four-day, three night cruise for two. The contest is just another example of Bonge's desire to give back.
Scott's route will be posted on his company's website. If you'd like to schedule an interview with him, please contact Tiffany Morrin.
###