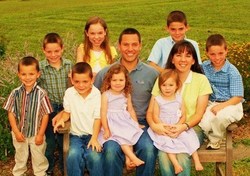 The entire family working together leads to fun times that are also educationally enriching
Charlestown, IN (Vocus) August 31, 2010
Jim & PJ Jonas and their 8 young children are living the American Dream, turning their Indiana goat farm into a thriving business, Goat Milk Stuff™, marketing home-made, luxuriously-creamy, chemical-free goat milk soaps as well as GMS™ lotions, lip balms and bath bombs.
Goat Milk Stuff™ products are available online at http://www.GoatMilkStuff.com and in select retail stores around the United States.
PJ was inspired to start soapmaking after being concerned about the chemical ingredients in most shampoos and bath products used by the children. With help of Jim and the children, she developed a business that started with goat milk soap and now provides natural body care products to customers across America and around the world.
ABC-TV affiliate WHAS-TV's recent report about the Jonas family's Goat Milk Stuff success can be seen online at http://www.tinyurl.com/2af38e2.
"With goats in the barn, an idea in our heads, and lots of hard work, what started out as one batch of goat milk soap has turned into a full range of soaps and related GMS body care products that are natural and good for your skin," said PJ (Patricia).
"Goat Milk Stuff™ is an example of the American entrepreneurial spirit in action. We are teaching the children to be young entrepreneurs as their work and their assistance in the business directly impacts the success of our family," said Jim Jonas.
With Jim and PJ running things, the young Jonas sisters of Brett, Indigo and Jade spend some of their day bagging the goat milk soap, while the Jonas brothers of Colter, Emery, Fletcher, Greyden and Hewitt milk and feed the goats. Aged 3 to 13 (no twins), the children love playing with and tending to the goats, particularly newborn goat kids. Supervised by Mom and Dad, the children's chores and real-world business experiences complement their homeschool education.
"The entire family working together leads to fun times that are also educationally enriching," said Jim, a former middle school science teacher. He and PJ met during their undergraduate years at the University of Virginia, where he studied economics and teaching and she studied engineering. Jim added, "The the Jonas-8, as we sometimes refer to our children, participate in Goat Milk Stuff™ activities as their ages and abilities allow."
PJ said, "Goat Milk Stuff™ products are safe and excellent for skin care, leaving skin moisturized and feeling smooth. We do not use chemical ingredients frequently found in commercial products; chemicals may dry your skin with continued use."
He added, "We use only natural fats and oils, never dyes or artificial colors, and only add high quality essential or fragrance oils to further enhance the luxurious feel and bubbly lather of GMS products. For washing, shaving, scrubbing dirt, or exfoliating, Goat Milk Stuff products offer moments of luxury at value prices."
"Goats produce milk that is high in skin nourishing Vitamin A and lactic acid. Each 5-ounce bar of our goat milk soap contains one ounce of goat milk and is handcrafted with our family's love and care. Our products allow people to pamper themselves in an environmentally conscious, yet cost effective way," she added.
"Goat Milk Stuff's popular array of goat milk soaps includes richly fragrant Oatmeal Milk & Honey, sweet smelling Black Raspberry, sparkling Mimosa Mandarin, refreshing Clean Cotton, enticing Pink Sugary, woodsy Evergreen, homey Honeysuckle, and many others from Lavender Vanilla and Lemongrass to Peppermint and unscented Purity," said PJ.
She added, "Also offered are GMS soaps to repel bugs, exfoliate skin, and scrub feet, in addition to an enticing assortment of lotions and lip balms. Elegant custom gift packs are also available for the individual preferences of our valued customers."
Jim noted that the Goat Milk Stuff™ slogan of "Work Hard. Get Dirty. Use Good Soap™" typifies the principles the Jonas Family devotes to their products. Unlike some competitors who force the curing process in order to rush their products to market, each bar of Goat Milk Stuff soap is cured for six weeks. The natural curing time increases mildness of the soap and how long it lasts.
"We wanted to be proud of every product as we expanded our GMS product line from goat milk soaps to solid lotions, lip balms, bath accessories, bath bombs, laundry soap and more. We produce only the highest quality products and sell them at a reasonable price so our customers can afford to indulge their skin with the natural goodness of goat milk," he added.
Goat Milk Stuff™ is based in Charlestown, Indiana, and markets natural goat milk soaps. Goat Milk Stuff™ and GMS™ are trademarked brands and assure the finest quality of product and value. Look for Goat Milk Stuff™ Goat Milk Soap, GMS Lip Balm, GMS Lotions, GMS Bath Bombs and GMS Laundry products that are environmentally friendly and produced, marketed and priced responsibly to offer consumers the finest Goat Milk Soaps and related bath products in America. Online at http://www.GoatMilkStuff.com, the Jonas' company markets a full range of products that are quickly shipped directly to consumers. The Goat Milk Stuff™ website also lists retail stores across America where shoppers can find Goat Milk Stuff™ products.
###