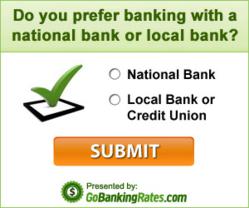 In the personal finance space, knowing where consumers are choosing to do business is crucial data to have.
El Segundo, CA (PRWEB) May 23, 2013
Over 650,000 Americans joined credit unions between September 29, 2011 and the first week of November 2011, after Bank of America announced it would charge customers $5 monthly fee to make purchases on their debit cards, according to Huffington Post. That's more new credit union members than all of 2010. One and a half years later, GoBankingRates.com seeks to find out how the trend has evolved, developing a poll to discover what America's banking preference is today.
"Now that the hype over Bank Transfer Day has died down, the backlash against big banks may have subdued as well," states GoBankingRates.com managing editor, Casey Bond. For instance, the American Customer Satisfaction Index shows that in 2011, consumer satisfaction with credit unions was 87%, while satisfaction with banks was only 75%. Last year, customer satisfaction was rated 82% and 77%, for credit unions and banks, respectively.
"There are clear benefits to banking with both national and community institutions, and our American Banking Preference Poll will tell us which option U.S. citizens are presently leaning toward," Bond adds.
The poll is a simple, one-question survey that asks Americans: "Do you prefer banking with a national bank or a local bank?"
With one click, individuals can specify their preference for banking with a 'national bank' or 'local bank or credit union.' Participants are encouraged to leave comments explaining their preference as well.
In response as to why GoBankingRates.com is choosing to conduct this poll, Ms. Bond explains, "In the personal finance space, knowing where consumers are choosing to do business is crucial data to have. We not only want to collect this data for 2013, but share it back with GoBankingRates.com readers, as well as the readers of other major news sources in the industry."
In fact, in an effort to further analyze the attitudes of Americans regarding their banking preference, GoBankingRates.com is encouraging other personal finance sites and online newspapers across the country to participate, adding to the data pool and gaining access to the unique, exclusive information collected.
"Learning what today's depositors and borrowers value most will allow us to customize the content we provide and offer more valuable information to readers. We expect this poll to open the door to gaining greater insight and starting a new conversation about where the trend is headed in national versus local banking," Bond concludes.
If you are a member of the media and would like to post the poll on your website, please use the contact information below.
About GoBankingRates.com
http://www.GoBankingRates.com is a national website dedicated to connecting readers with the best interest rates on financial services nationwide, as well as informative personal finance content, news and tools. GoBankingRates.com collects interest rate information from more than 4,000 U.S. banks and credit unions, making it the only online rates aggregator with the ability to provide the comprehensive and authentic local interest rate information.
Additionally, GoBankingRates.com partners with a number of major media outlets such as Business Insider and US News & World Report to provide compelling and edifying personal finance content, and its expert editors have been featured and quoted on several premier finance websites like Yahoo! Finance, Forbes, The Street, Huffington Post and more.
Contact:
Jaime Catmull, Director of Public Relations
GoBankingRates.com
JaimeC(at)GoBankingRates(dot)com
310.297.9233 x261
Sources:
Huffington Post, Bank Transfer Day Pushes 40,000 To Join Credit Unions, Survey Finds, November 9, 2011.
American Customer Satisfaction Index, Benchmarks By Industry.