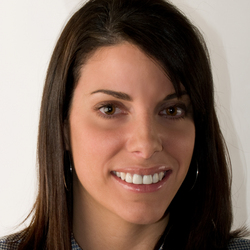 Carmela exemplifies the true spirit of account service. She does her homework, thinks out of the box, becomes the brand steward and the client's best offense in a challenging market
Chicago, IL (PRWEB) July 16, 2009
Carmela Wegworth, Account Director, Goble & Associates, was recently recognized as a Rising Star for 2009 by the Healthcare Businesswomen's Association (HBA).
HBA Rising Stars are up-and-coming professionals in various sectors of the healthcare industry, including pharmaceutical, biotechnology, advertising, public relations, medical education and market research, among other fields. Nominated by HBA corporate members, the Rising Stars represent various career stages and disciplines, and have demonstrated noteworthy achievements and proven attention to furthering their careers.
"Carmela exemplifies the true spirit of account service. She does her homework, thinks out of the box, becomes the brand steward and the client's best offense in a challenging market," said Nancy Finigan, Executive Vice President, Account Group Director, Goble & Associates. "Internally she creates strong teams and never settles, and her brand communications reflect that commitment."
The 2009 award ceremony took place Thursday, May 7, at the New York Hilton in Manhattan. Nearly 100 award recipients were honored at the event this year, which marks the 31st anniversary of the HBA.
"There are many important qualities that leaders need, but the fundamental quality is being true to who they are and loving what they do. They need to have a strong knowledge of who they are, and who other people around them are. Every day is full of challenges and successes, so being humble and learning from what happens day to day is important," said Carmela. "In challenging times, leaders do not compromise their beliefs or the beliefs of their team members. Leaders continue to inspire when inspiration is needed, and know when to ask for help. Leaders cannot be strong without the support of their team, company, and family."
About the HBA
The Healthcare Businesswomen's Association (HBA), founded in 1977, is the premier catalyst for the professional development and leadership for women in the healthcare industry. The HBA empowers its 4000 members to achieve their greatest potential by providing unparalleled opportunities for professional development, education, skill-building, networking and mentoring. The association continually expands its offerings to meet the demands of a growing and dynamic membership.
For more information, visit http://www.HBAnet.org.
About Goble & Associates
Founded in 1982, Goble & Associates is an independent, full-service agency specializing in healthcare communications--providing expertise and support across the entire media spectrum. Clients of Goble & Associates represent virtually every sector of the healthcare industry.
The agency employs about 70 senior-level professionals with expertise in account management, creative and interactive services, and strategic planning. Clients of Goble & Associates include pharmaceutical manufacturers, OTC and nutritional supplement marketers, as well as diagnostic product suppliers.
For more information, visit goble-assoc.com.
# # #