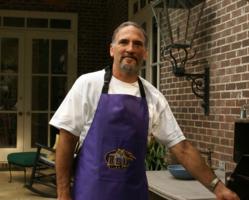 Foley, Alabama (PRWEB) May 16, 2012
GO Chic! released its first-ever GO Chic! Gift List for Father's Day 2012. While a company by this name may not be the first place someone would think to shop when searching for the perfect gift for Dad, rest assured there are plenty of options to keep the proverbial Man Card intact – all of the options on the GO Chic! Gift List play tribute to SEC teams with officially licensed logos or vibrant team colors that are also representative of many NFL teams.
GO Chic! Gift List, Father's Day 2012
1. King of the Grill – A new grill makes the perfect gift for Dad, especially in today's market when quality, affordable grills abound. But, what good is a new grill without the essentials that make it worth using? Thrill Dad with a new set of stainless steel grilling utensils that will withstand the heat for years to come, even when his team can't. Stainless steel tongs and spatula with logo cut-outs and rosewood or oak handles available in 10 logos, $22 each.
2. Protect last year's fancy tie with an apron he'll want to wear – Standing over a hot grill flipping burgers or basting barbeque ribs is bound to get messy. Protect Dad from grease, spills and splatters with a logo apron that has a protective coating on the back to keep any mess from soaking through. One-hundred percent polyester aprons with logo embroidery available in five logos, $19 each.
3. Honey, pass me another cold one…oh, wait… - Sixteen-ounce insulated tumblers are perfect for keeping cold drinks cold and hot drinks hot. Acrylic tumblers are insulated and double walled so they do not sweat…if the ice ever gets around to melting! In fact, leave it for a little while in the summer heat and still have ice cubes in tact when it's time for another swig of sweet tea. Acrylic Tumbler available in 5 schools and Soft Touch Tumbler with lid available in 6 logos, both are $24 each.
4. Let me do dinner tonight – Dad will chop to it when it comes time to prepare dinner, or any meal for that matter, if it involves this officially licensed eco-friendly bamboo cutting board. Perfect in the kitchen, outdoors or at the big game, the cutting board features a 15X11 inch work space, a scooped out border to collect juice and debris for easy clean-up and, most importantly, a team's logo to marvel at while slicing and dicing. Available in 4 SEC schools, $21 each.
5. Beer cans never looked so good – When beer cans and bottles are involved, even the classiest affair can begin to look like a frat party by the end of the evening! Keep drinks cold, Dad happy and the party looking picture perfect with a galvanized beverage tub and custom band. Fabric bands are offered in just about any team color combination imaginable. Fill it with Dad's favorite beer or beverage of choice and it becomes a gift guaranteed to score points. Beverage tubs are available in an 11X16 inch oval or 18 inch diameter round, $37 and $40 respectively.
6. Fun and games with custom made Cornhole – A hot item at any tailgate, Dad will love a customized, made–to-order cornhole game in team colors. A great addition to football season, or evenings of outdoor summer fun for Dad and the kids, this popular game comes complete with four coordinating, team inspired bean bags. Set includes 1 portable cornhole game, 4 beanbags and instructions for $89.
GO Chic! is a custom tailgate and party décor company that has been in business for 3 years. Based in Foley, Alabama, GO Chic! has three generations of design experience, and is committed to manufacturing original products in the United States. Attention to every detail throughout the hands-on design and fabrication process ensures the highest quality products the customers have come to expect. To view the collection and for ordering information go to http://www.shopgochic.com.