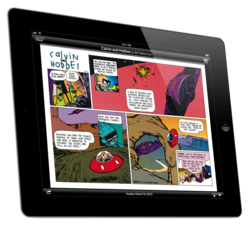 Of particular note, the GoComics app is the only approved mobile/tablet app home for reading the iconic strip "Calvin and Hobbes."
Kansas City, MO (PRWEB) April 23, 2013
GoComics, a part of the Universal Uclick syndicate family, is excited to announce that a GoComics mobile app is now available, featuring its catalog of comic strips, comic panels and editorial cartoons from many of the world's finest cartoonists.
"We like to make people laugh. And in a world where everyone is constantly on the go, we want to bring our content to our readers," said John Glynn, president of Universal Uclick.
The GoComics app, available on iOS, Android and Windows platforms, provides comics fans with a daily dose of laughter from hundreds of the most popular comics on the planet. With most of the comics updated daily, the app appeals to an unparalleled variety of comic interests. Iconic classics like "Peanuts," "Bloom County," "For Better or For Worse" and "FoxTrot" mingle with newer, edgier fare like "Pearls Before Swine, ""Lio" and "Dark Side of the Horse" and family-friendly favorites like "Red and Rover," "Cul de Sac" and "Thatababy." Comics aficionados will get to know many new webcomic creations, as well, such as "Savage Chickens," "Invisible Bread," "Heavenly Nostrils" and "Oyster War."
Of particular note, the GoComics app is the only approved mobile/tablet app home for reading the iconic strip "Calvin and Hobbes."
"The GoComics app is a wonderful way to bring comics to a broader group of comics lovers," said Bill Hinds, cartoonist of beloved comic strip "Tank McNamara." "For creators like myself, I love knowing that 'Tank McNamara' will be appreciated by an audience that's on the go, with the ability to share it through social media."
Political junkies using the app will enjoy being on the cutting edge of the national debate with up-to-the-minute commentary from dozens of conservative, moderate and liberal editorial cartoonists, including 15 Pulitzer Prize winners.
Via this app, free users are able to read new comics daily along with GoComics' entire library of cartoons. As with the GoComics.com website, readers have the option to upgrade to a Pro membership for an ad-free experience. For the mobile app, users can make the monthly Pro membership purchase of $0.99/month or $11.88 annually ($11.99 for iOS/Apple users).
Along with featuring Universal Uclick-represented properties, the GoComics mobile app features work from other respected comic/content providers, including Creators Syndicate ("BC," "The Wizard of Id," "Speed Bump," "Dog Eat Doug") The Washington Post Writers Group ("Pickles," "Bloom County," "Candorville," "Mike DuJour") and Tribune Media Services ("Brewster Rockit," "Dick Tracy," "Pluggers," "Broom Hilda").
The GoComics mobile/tablet app can be downloaded via the following means (links embedded):

About Universal Uclick
Universal Uclick is the largest independent press/entertainment syndicate in the world and a leading digital entertainment provider of humor, comic strips, political cartoons and other content for print, Web and mobile devices. Universal Uclick provides editorial development, licensing and other distribution services for iconic brands like Doonesbury, Dear Abby, Miss Manners and some of the most significant comics in history, including Calvin and Hobbes, Garfield, Peanuts, Dilbert, For Better or For Worse, Cathy and Ziggy. Recent standout successes include Lio, Cul de Sac, Pearls Before Swine, Get Fuzzy, Big Nate and The Argyle Sweater. A full comic catalog can be found at GoComics.com or via its mobile/tablet app on multiple platforms. For more information on Universal Uclick, visit UniversalUclick.com.