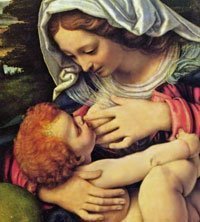 Churches all over the world are filled with images of Mary nursing baby Jesus
Miami, FL (PRWEB) March 30, 2011
Controversy has exploded over the launch of the world's first breastfeeding doll, "The Breast Milk Baby" into the U.S. market. The doll lets young girls express their love and affection in the most natural way possible, by simulating natural nursing. According to Dennis Lewis, U.S. spokesman for Berjuan Toys, "the whole purpose of The Breast Milk Baby is to teach children the nurturing skills they'll need to raise their own healthy babies in the future. Breastfeeding is good for babies, it's good for mommies and it's good for society. We really don't understand why this has created such controversy."
When questioned about the strong reactions, Mr. Lewis commented, "The truth is that we've received overwhelming support online from all over the country. However, about 20% of the messages have been hateful and mean. We're being called perverts and pedophiles for promoting feeding our babies the way God intended? Churches all over the world are filled with images of Mary nursing baby Jesus, and yet we can't imagine letting our daughters learn how important breastfeeding is for our society?"
With few exceptions, the World Health Organization recommends exclusive breastfeeding for the first six months of life for all babies. However, data from the Centers for Disease Control and Prevention show that only 43% of American mothers are reaching this goal. Furthermore, in states like Louisiana and Mississippi barely 20% of new mothers are still breastfeeding 6 months after giving birth.
"Clearly this reflects a problem with how breastfeeding is regarded in our country," stated Mr. Lewis. "A hundred years ago, 90% of Americans would have laughed at all this controversy. Breastfeeding was considered a normal part of everyday life until the pharmaceutical companies struck gold with the idea of artificial milk in the 1920s. As Americans we've been duped into believing there's something shameful and taboo about breastfeeding, but the truth is that this idea was created to sell more baby formula. The Breast Milk Baby is a serious product, created by a small family owned Christian toy manufacturer who strongly believes in the benefits of feeding babies the natural God given way. Our dolls are beautiful and well made, and we're proud of them."
"We stand by our statement: Little girls need to learn to breastfeed."
For more information, visit their web site, TheBreastMilkBaby.com!
Visit here to win a free Breast Milk Baby.
Follow the Breast Milk Baby on facebook: http://facebook.com/thebreastmilkbaby
Breastfeeding Report Card, United States: http://www.cdc.gov/breastfeeding/data/reportcard2.htm
###