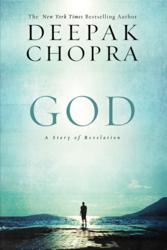 In Deepak Chopra's powerful, groundbreaking, and imaginative new book, a unique blend of storytelling and teaching, the New York Times bestselling author explores the evolution of God.
San Francisco, CA (PRWEB) September 25, 2012
Deepak Chopra will provoke more discussion in the worlds of spirituality and religion with the publication of the fourth book in his bestselling Enlightenment series. God: A Story of Revelation, (hardcover; $25.99; ISBN #9780062020680) will be released on September 25, 2012, and promises to be the most powerful installment yet. In addition, Chopra is the subject of a documentary "Decoding Deepak" that will be released by SnagFilms on October 5.
In Deepak Chopra's powerful, groundbreaking, and imaginative new book, a unique blend of storytelling and teaching, the New York Times bestselling author explores the evolution of God. By capturing the lives of ten historical prophets, saints, mystics, and martyrs who are touched by a divine power, Chopra reveals a riveting portrait of a constantly changing God. Our belief—and therefore God itself—transforms with each passing century. In this new novel, Chopra brings to life the defining moments of the most influential sages, ultimately revealing universal lessons about the true nature of God.
Job in the Old Testament experienced something completely different from Paul in the New Testament; Socrates chased a mercurial spirit almost unrecognizable to the strange voice that called to Rumi, Shankara moved from town to town sharing the truth about a God that stood in marked contrast to the one that guided Anne Hutchinson—yet one sees an undeniable pattern. These visionaries took the human race down unknown roads and Chopra invites us to revisit their destinations. Tearing at readers hearts and uplifting their souls, God leads us to a profound and life-altering understanding about the nature of belief, the power of faith, and the spirit that resides within.
Deepak Chopra is the founder of The Chopra Center for Wellbeing in Carlsbad, California, and is acknowledged as one of the master teachers of Eastern philosophy in the Western World. He has written more than fifty-five books and has been a bestselling author for decades with over a dozen titles on the New York Times bestseller lists, including Buddha, Jesus, and many others.

Synopsis "Decoding Deepak"
Film-maker and journalist Gotham Chopra embarks on a year long road trip with his father Deepak Chopra in an attempt to resolve the spiritual icon he is to the world vs. the real man known to his family. From devoted disciples that range from Lady Gaga to lost souls searching for themselves in the red rock deserts of Sedona, Gotham begins to paint a raw portrait of his dad that only a son can. The film travels across the planet chronicling colorful Deepak activities – from a traditional monk ordainment in Thailand to a literal decoding of ancient family registers in rural India. On the home front, Gotham also takes a closer look at the expansive spiritual empire his father has built over his 25 year career that initially was conceived out of Deepak's own deep personal and spiritual dissatisfaction, and a decidedly non-spiritual (and boozy) origin.
Ultimately what emerges is a picture of a Deepak that while reminiscent of other popularized Indian gurus, is more dad than demigod. Full of flaws, foils, intelligence, and irreverence, the decoded Deepak uncovered by his son's honest scrutiny of him is a symbol of a world searching for answers in the most unlikely places and a deeper plunge into the meaning of identity itself.
A reading discussion guide for God is available in advance of a live Twitter discussion with Deepak Chopra to be held on Tuesday, October 2 at 3 - 4pm PST.