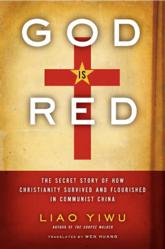 Now, with empathy and compassion, Yiwu gives voice to another persecuted people in China – Chinese Christians.
San Francisco, CA (PRWEB) September 06, 2011
In 1990, Chinese dissident Liao Yiwu was imprisoned for writing a poem about the Tiananmen Square protests and remained under police surveillance after serving a four-year sentence. Moreover, in the past ten years, Yiwu was denied leave from China to travel abroad 15 times and forbidden to publish "illegal" works outside of China.
Now, with empathy and compassion, Yiwu gives voice to another persecuted people in China – Chinese Christians. His new book, God Is Red: The Secret Story of How Christianity Survived and Flourished in Communist China (HarperOne; September 13, 2011; Hardcover; $25.99), recounts their ongoing battle for freedom of expression and religion.
In God is Red, Liao reveals that Christianity is undergoing a resurgence in China, a country typically associated with Buddhists, Taoists, and atheists. According to the World Christian Database, five percent of China's population practices Christianity, making it the country's largest formal religion.
Providing an unprecedented glimpse into a deeply complex religious and political reality, Liao shares the stories of a wide range of astonishing and unique characters for whom Christianity is life-sustaining—a faith that has enabled survival, forgiveness, a sense of community, and peace, both under Mao and now as Christians continue to be persecuted. Through this human lens, Liao Yiwu reveals a new Christian identity which is distinctively Chinese.
Mickey Maudlin, Senior VP and Executive Editor at HarperOne, says, "God is Red incorporates the beauty and wonder of what books can do–transporting us into an unknown and hidden world with depth and intimacy. We are proud to be able to publish Liao Yiwu."
ABOUT LIAO YIWU
Liao Yiwu is a Chinese author, reporter, musician and poet. He is the author of The Corpse Walker: Real Life Stories, and China from the Bottom Up. In 2003, he received a Human Rights Watch Hellman-Hammett Grant, and in 2007 he received a Freedom to Write Award from the Independent Chinese PEN Center. Liao Yiwu escaped China in July 2011. He is currently in exile in Germany, and plans to visit the U.S. for the first time in September.
ADVANCE PRAISE FOR GOD IS RED
"In this book, Liao wanders in those forgotten villages in the southwestern part of China and explores a spiritual world neglected by modern civilization, restoring an important part of Chinese history that has been distorted, erased or forgotten, and documenting the life stories of a special group of people who battle against suppression to preserve their faiths. Liao's coverage of Christians allows truth to shine in the darkness. That's the beauty of his writings."
— Liu Xiaobo, 2010 Nobel Peace Prize winner
"God Is Red is the most wonderfully surprising report on the church in China I've seen, and Liao Yiwu is the best literary guide since Vergil."
— John Wilson, Editor, Books & Culture
"For anyone with a long view of history, it is very difficult to read Liao Yiwu's work without being constantly reminded of Christian struggles in the ancient Roman Empire, when a harassed minority was struggling to exist. Parallels with the modern-day world are startling. Who can tell how the story will play out this time round?"
— Philip Jenkins, author of Jesus Wars
"This is a mesmerizing and amazing tale of courage. Author Liao Yiwu's story, covering even the recent past, is especially powerful because he is not himself a Christian. The reporting is brilliant and the perspective dazzling."
— David Aikman, author of Jesus in Beijing
"The author, himself an object of intermittent government harassment, is a deft interviewer. Not a believer himself, Liao empathizes with the Christians he encounters. These portraits of faithful Christians are beautifully drawn, neither triumphalist nor maudlin. Suffering, but also resilience and hope, are the common lot of these believers."
— Daniel Bays, author of Christianity in China
GOD IS RED
The Secret Story of How Christianity Survived and Flourished in Communist China
By Liao Yiwu
Translated by Wen Huang
HarperOne, and Imprint of HarperCollinsPublishers
September 2011│Hardcover│$25.99│ISBN: 9780062078469
###