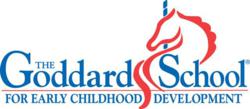 KING OF PRUSSIA, Pa (PRWEB) March 07, 2012
The "Number 1 Childcare Franchise in the U.S.," Goddard Systems, Inc. (GSI), franchisor of The Goddard School©, is pleased to announce its Chicago Schools have been recognition as "Best Child Care Center for 2012" by The Daily Herald, a Chicagoland daily newspaper.
"We are extremely proud of our Chicago schools and franchisees for earning recognition as the Best Child Care Center in Chicagoland," said Lisa Fisher, Director of Communications for GSI. "Their commitment to the children, their communities and The Goddard School brand is exemplified in the winning of this award."
According to the Daily Herald, the businesses highlighted represent the best in the Chicagoland area -- as voted by its readers. More than 7,000 ballots were received in its four-week Reader's Choice promotional campaign, intended to identify the top businesses in Chicago and the suburbs in a wide range of categories. At least three businesses in each category were judged best in our campaign.
Goddard currently has 17 locations throughout the Chicagoland area. For more information on The Goddard Schools in Chicago, visit http://www.goddardschool.com.
About Goddard Systems, Inc.
Recently named No. 1 Childcare Franchise in the United States by Entrepreneur magazine, for the eleventh consecutive year (January 2012) and one of the Top 200 Franchise Systems (in worldwide sales), by Franchise Times, for the fifth consecutive year (October 2011); Goddard Systems, Inc. (GSI) is expanding The Goddard School® network throughout the United States. Headquartered in King of Prussia, Pennsylvania, GSI currently licenses 380-plus franchised schools with more than 45,000 students in 35 states. With a successful system in place and dedicated franchisees, GSI is the acknowledged leader in franchised childcare and a premier childcare provider in the United States. To learn more, visit its Web site for more information.