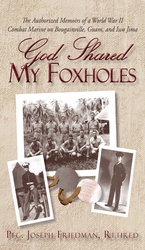 Miami, FL (Vocus) November 18, 2010
While serving as a combat marine in three major South Pacific campaigns over 27 grueling months, retired Pfc. Joseph Friedman participated in several major, harrowing battles. As a touching tribute to his comrades-in-arms, Friedman compiled God Shared My Foxholes: The Authorized Memoirs of a World War II Combat Marine on Bougainville, Guam, and Iwo Jima (published by iUniverse), a compelling memoir of his experiences in combat, and dedicated it to their memory.
God Shared My Foxholes utilizes first-person narrative, vignettes and war-time poems written by Friedman to paint a clear picture of camaraderie and adventures on and off the battlefield. Friedman relates stories of interactions with indigenous populations and captured enemy soldiers, but leaves readers to form their own opinions about the campaigns. Throughout the book, readers are reminded of the author's youthful curiosity and devotion to the Marine Corps.
The book begins with Friedman's basic training at Parris Island, and continues to his first encounters in the South Pacific. In the jungles of Guadalcanal, the men in Friedman's regiment sharpened their advanced combat training while enduring frequent air raids and bouts of malaria. After landing on the beach of Bougainville with fellow marines, Friedman narrowly escaped being blown apart by enemy bombers and endured sniper fire, mortar attacks, daily torrents of soaking rain and near-starvation when his unit pushed far beyond the provision lines.
Moving on to the beaches of Guam, Friedman encountered a terrifying melee of violence. Friedman couldn't help but wonder how he survived.
Friedman passed through devastated areas, such as the capital Agana, and engaged in frequent skirmishes while on patrol. Friedman faced difficult moral dilemmas, such as disobeying direct orders to kill unarmed wounded prisoners. On Iwo Jima, Friedman's regiment met fierce resistance and intense artillery while securing the island's three airstrips. On October 5, 1945, after months of harsh warfare, Friedman was honorably discharged, and accepted a job with the New York Times.
About the Author: Joseph Friedman was raised on a small farm in rural New Jersey. After World War II broke out, his evenings were spent listening to the radio and discussing tragic events in the news. With a fair understanding of the danger he would face, Joseph Friedman heard his call to duty and enlisted in the Marine Corps in Sept. 1942. Joseph Friedman served his country as a Combat Marine with the Fleet Marine Force during WWII in three major South Pacific campaigns over a span of 27 months. In retirement, he returned to Guam in 1994 as a guest of that nation. Upon his return, he realized the importance of his memories of the war. Joseph Friedman currently lives and works in south Florida.
iUniverse is a premier book publisher for emerging, self-published authors. For more information, please visit http://www.iuniverse.com.
###