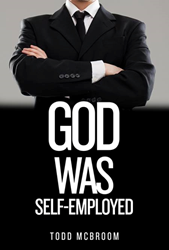 You have to be passionate, obstacles are not there to keep you out; they exist for you to find out how badly you want in.
(PRWEB) September 30, 2014
Todd McBroom is an expert on business and the author of the best-selling entrepreneurial advice book God Was Self-Employed, published by Next Century Publishing. Todd regularly addresses large groups on business topics, and focuses on providing advice for entrepreneurs, particularly those that are just beginning their own businesses. Now, Todd has revamped his website to include weekly blog posts that will further assist both new and veteran business owners in achieving success.
Todd's book, located on the web at http://godwasselfemployed.com, focuses on the importance of financial independence. While Todd says that "everyone can learn from these simple but essential principles of financial success," he also gives readers a blueprint to follow that makes success a certainty. Todd uses the principles found in the Bible on financial freedom to frame practical steps that help others master their money and gain independence from debt.
Todd is also a sought-after speaker who regularly addresses large groups on financial topics. Now, with the restructuring of his website and inclusion of weekly blog content, his website acts as a continuing source of inspiration and education for those who follow his teaching. With each blog post, Todd offers simple, easy-to-understand content that will give those who are searching for practical advice on becoming financially independent the help they need, particularly if they are small business owners.
With applicable tips from his blog posts and solid advice from God Was Self-Employed, small business owners and entrepreneurs can find a wealth of information on becoming successful in business and sound money management.
About Todd McBroom:
Todd McBroom is a Christian writer and speaker who uses Biblical principles to illustrate his teaching on financial success. Todd, a husband and father, hopes to empower others to use their intelligence, strength and opportunities to take control of their career and personal life in order to live in prosperity and financial independence.