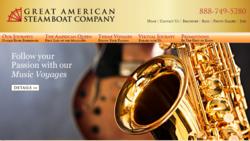 "Having a strong web presence is a key component to creating a brand identity and tourism marketing campaign that tells our story."
Jackson,MS (PRWEB) February 23, 2012
GodwinGroup was tasked with developing a strong web presence across national markets consistent with Great American Steamboat Company's overall brand identity. In addition to web design, the agency also developed collateral, print, email and onboard pieces. GodwinGroup was initially approached by the organization to provide branding and launch support after the company began business operations in August 2011 with the acquisition of the American Queen. Since the website launched last year, Great American Steamboat reports sold out voyages through December 2012. The company will launch its maiden voyage in April of this year.
"Our organization has been very impressed by the level of professionalism and quality of work GodwinGroup has provided, in addition to the speed and elegance with which everything has been completed," said Tim Rubacky, Senior Vice President of Sales, Marketing and Product Development for Great American Steamboat Company. "Having a strong web presence is a key component to creating a brand identity and tourism marketing campaign that tells our story."
In addition to Best of Show in Interactive, the agency also gained four gold and five silver awards. The agency will go on to compete in the regional competition in Nashville, Tenn., in April. The ADDY® Awards, the world's largest advertising competition, cultivates the highest creative standards in the industry.
GodwinGroup, founded in 1937, is the oldest and largest advertising agency in Mississippi. Headquartered in Jackson, with an office in Gulfport, Miss., it serves clients nationwide, primarily in tourism, healthcare, banking, finance and insurance, utilities, manufacturing, food, and consumer goods. The agency has been recognized numerous times among the nation's leading agencies as measured in revenues by Ad Age and AdWeek. GodwinGroup provides branding, advertising and reputation management services, as well as web marketing services through its digital arm WebMetro/Godwin.
###