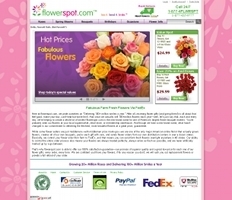 GoECart provided us with the perfect two-pronged approach in an ecommerce partner based on both technical competency and strategic alignment. GoECart offers spectacular core ecommerce options and features, while being nimble, agile, and scalable to allow flexibility and personalization as our online strategy evolves and customer base matures
Bridgeport, CT (PRWEB) February 1, 2010
GoECart® the leading provider of on-demand ecommerce solutions, today announced the launch of a dynamic new ecommerce website, FlowerSpot.com™, developed using GoECart's middle market ecommerce platform. Thanks to a variety of innovative features, the new site is destined to become a vibrant online destination for buyers of all things that bloom.
FlowerSpot leveraged the award-winning GoECart technology and enlisted the help of the GoECart professional services team to achieve a fully customized ecommerce solution within budget and in approximately 120 days. With the launch of http://www.FlowerSpot.com earlier this week, the company is poised to compete with the major online florists.
Richard Rees, FlowerSpot.com General Manager said, "FlowerSpot.com selected GoECart because we needed a complete and robust ecommerce platform that could be fully tailored to our needs and allow us to communicate and engage with customers in unique and interactive ways. The GoECart team was able to deliver on even our most complex technical requirements in record time with meticulous attention to detail…we couldn't be more pleased with the results."
The storefront features a plethora of features and options that were customized to FlowerSpot's business model. FlowerSpot leveraged GoECart's flexible software architecture and vast ecommerce expertise in building the storefront. Special features of the new site--developed in part using cutting-edge AJAX technology--include:

Site personalization, including a customized checkout process that is optimized for higher conversions and remembers customer details
Social and viral marketing capabilities designed to encourage repeat orders, such as free event reminders and personalized greeting cards
An intelligent delivery calendar driven by customer delivery zip codes and the physical location of the website visitor
A ground-breaking Intelligent SEO™ capability that automatically optimizes web pages in the storefront for display in the major search engines like Google™, Yahoo!®, and Microsoft® Bing™
The back-end administrative capabilities of FlowerSpot.com compliment the innovative features on the storefront. These include:
A vendor administration capability that allows several of FlowerSpot's nationwide warehouse partners to manage inventory and order fulfillment
Tight integration with FedEx Ship Manager API®, including: Shipping Rate Calculation , Service Selection, Label Generation and Address Verification and
Automatic and intelligent routing of orders to appropriate warehouses based on inventory levels and customer delivery address
Automatic, intelligent assignment of the best warehouse vendors using multiple delivery logic parameters, including zip code distance calculations
With GoECart's support for a Thriving Partner Ecosystem™ of best-in-class software and service providers, the new site also includes integration with MaxMind® for intelligent auto-routing of time sensitive orders based on customer location, FedEx (Nasdaq: FDX) for world class shipping services and proactive customer delivery address verification; GeoTrust® (Nasdaq: VRSN) and McAfee Secure™ (Nasdaq: MFE) for security and compliance; Omniture® (Nasdaq: OMTR) and Google™ (Nasdaq: GOOG) for web analytics; ShareThis® for social bookmarking, and several others.
Amazingly, this all happens while ensuring absolute freshness of flowers delivered to the customer doorstep seven days a week. Flowers are in-transit for a maximum of one day.
"The new FlowerSpot.com site is a shining example of how an innovative merchant like FlowerSpot can combine outside-of-the-box thinking with GoECart's flexibility to achieve a highly customized ecommerce site. We are thrilled to welcome FlowerSpot to our ever-growing family of clients," said Manish Chowdhary, GoECart's CEO.
"GoECart provided us with the perfect two-pronged approach in an ecommerce partner based on both technical competency and strategic alignment. GoECart offers spectacular core ecommerce options and features, while being nimble, agile, and scalable to allow flexibility and personalization as our online strategy evolves and customer base matures," added Richard Rees, General Manager of FlowerSpot.com.
About FlowerSpot.com
Flowerspot.com is an exciting new online fresh-cut flower company. As a new sister company of the Native Floral Group, we are one of the largest fresh flower bouquet companies in the USA delivering over 100 million flowers a year. Over the last 18 years we have combined the strength of talented designers and excellent farm relationships to provide fresh flowers at wholesale prices Flowerspot.com utilizes the strategic locations of the Native Floral Group across the nation to rush flowers from farm to customer. This fast and efficient combination provides consumers with farm fresh flowers, beautifully designed and delivered overnight, all at wholesale prices! At Flowerspot.com, we pride ourselves on "Delivering 100+million smiles a year."
About GoECart
GoECart empowers merchants and retailers of all sizes with innovative, on-demand ecommerce solutions designed to address the challenges of the ever-changing web. Hundreds of organizations rely on GoECart every day to Sell more™ merchandise online and compete more effectively. GoECart's proven technology solutions offer the ultimate in reliability, scalability, and flexibility demanded by the world's busiest ecommerce sites. GoECart's Thriving Partner Ecosystem™ provides the ultimate network of best-in-class ecommerce solutions providers to deliver a rich, immersive experience expected by today's savvy web shoppers. And our team of passionate ecommerce experts keeps our clients at the forefront of ecommerce.
Press Contacts:
For GoECart:
Manish Chowdhary, CEO
marketing (at) GoECart (dot) com
http://www.GoECart.com
877-243-3612
For FlowerSpot:
Richard Rees, General Manager
RRees (at) FlowerSpot (dot) com
http://www.FlowerSpot.com
1-877-4FLWRSPT
###