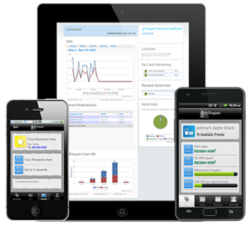 We are very excited by the response to the launch of this product in Northern Colorado.
- Kent Bejcek
Fort Collins, CO (PRWEB) September 11, 2012
goFrequent, a mobile application that allows customers to keep track of their rewards on their smart phones, is announcing the release of a new version. The new version of goFrequent allows merchants to send exclusive push notifications featuring deals to their goFrequent customers. This new feature gives merchants another avenue to reward loyal customers.
With US mobile usage continuing to explode businesses more than ever need an active means to reach customers; goFrequent delivers with Deals. goFrequent Deals can be sent to customers who have received points at a merchant and have opted in for notifications.
Not only is goFrequent releasing new features but customers can't get enough. goFrequent continues to gain momentum, adding 100+ new users each week. Currently released in the Northern Colorado market, users are able to use goFrequent for a variety of different businesses that include coffee, pizza, oil changes, golf, and much more. Customers use goFrequent to receive points and redeem rewards with merchants they're already using.
"We are very excited by the response to the launch of this product in Northern Colorado," states Kent Bejcek, Squarei Technologies CEO, "Our market research, demonstrated there was a need for this product. We talked to hundreds of end customers and their response was always the same 'I don't like having to carry around and keep track of so many loyalty cards and would much rather have my rewards tracked on my phone.' That matches up nicely with our tagline: Tracking rewards where it makes sense, the SMARTPHONE."
goFrequent currently features partnerships with local businesses in Northern Colorado who will replace everyday punch cards with the unique application. A few of our local partners include Truman's Coffeehouse, Positanos Pizzeria, Bullhide 4x4, PIPER's Grease Monkey, The Pizza Casbah, SouthRidge Golf Club, Mackenzie's Pub, George's Gyros& Burgers, Fort Collins Coffeehouse, Earthwise Pet Supply, Xanadu Med Spa, Mama Ronis Pizza and many more making the switch weekly.
goFrequent is available for free download through the Apple App store, Google Play Store, or through http://www.gofrequent.com. To find out more about goFrequent, visit the website at http://www.gofrequent.com or call Squarei Technologies at (970) 377-0077.
###