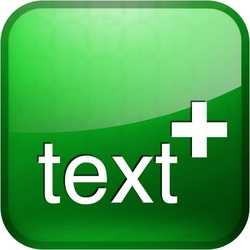 Texting technology has remained relatively untouched for over 20 years, even as an entire generation of younger consumers shifted their preference to texting versus calling
Marina del Rey, CA (PRWEB) August 25, 2009
GOGII, Inc., today announced that textPlus, its text messaging application for iPhone and iPod touch has reached several significant milestones since launch on June 1, 2009. Over 1.6 million people have downloaded textPlus and approximately 4.7 million users have experienced messages sent or received from the application. In the US, 80 million messages have been sent using textPlus and currently, on average, over 1.6 million text messages are sent using the application each day. Since launch, the amount of total minutes used with textPlus is 265 million - equivalent to over 500 years of use.
"Texting technology has remained relatively untouched for over 20 years, even as an entire generation of younger consumers shifted their preference to texting versus calling," said Scott Lahman, CEO and co-founder of GOGII. "Texting has become a predominant language for this younger generation and our goal with textPlus is to transform this powerful communication tool into a true application platform. We believe the positive user response to textPlus, not only in the number of people downloading the application but also how often they are using it, highlights the real demand for an enhanced texting experience."
textPlus demonstrates a high level of user engagement. Users launch textPlus on average 10 times per day and spend on average 50 minutes a day using the application. Compared to recent studies concluding users in the same age range spend only 23 minutes on average per day online, textPlus users spend approximately twice as much time using the application than they spend on the Web. While only the top 5% of applications in the Apple App Store reach 100,000 unique monthly visitors, textPlus has already exceeded that mark by over 7 times in the month of July.
textPlus is an easy-to-use texting application that brings similar group messaging features to mobile devices previously found only on laptops and computers. Because textPlus interacts with any phone with a text plan, users can organize activities with several friends at the same time, introduce people to each other or just carry on a group conversation - all in text and all for free. Once a text is sent to group members, the message becomes a group conversation. Responses are "reply all" and viewable in a chat room-like format so the entire group sees every message sent as if it were a face-to-face conversation. SMS text messages sent via textPlus on the iPhone or iPod touch are unlimited & free for the consumer, with messaging costs sponsored by GOGII and advertisers.
Additional features include landscape keyboard mode, which makes it easier and faster to write texts, users' or their friends' pictures inserted into the conversation stream and notifications to let users know when they have received messages, even when they are not using the application. textPlus also provides a seamless experience for users to interact with their friends who use standard text messaging.
The textPlus application is available for free from Apple's App Store on iPhone and iPod touch or at http://www.itunes.com/appstore/.
Standard text message rates apply only when using optional notifications.
About textPlus
textPlus leverages GOGII's innovative messaging platform to bring real text to the iPod touch and free group texting to the iPod touch and the iPhone. textPlus enables seamless interaction between textPlus users and their friends using regular text messaging (SMS).
About GOGII (go-jee)
GOGII develops applications that make text messaging better, more useful, and more fun. Text messaging has replaced voice as the communications mode of choice on mobile phones, and GOGII aims to deliver more features and functionality to consumers through this ubiquitous data platform. Likewise, businesses and brands are now able to reach customers in real time through GOGII's platform.
GOGII, Inc., is backed by venture capital firm Kleiner Perkins Caufield & Byers and is part of their iFund, which is exclusively focused on developing applications for Apple's products. GOGII, Inc., was founded in 2008 by the three founders of JAMDAT Mobile, the leading mobile entertainment publisher that was acquired by Electronic Arts in 2006.
For more information, please visit http://www.GOGII.com, http://www.textPlus.GOGII.com or text GOGII to 60611.
This press release includes information from the following sources:
Nielsen, How Teens Use Media, June 2009
AdMob, Mobile Metrics Report, May 2009
###