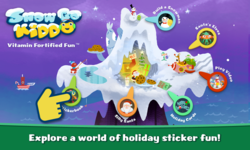 Vitamin Fortified Fun is our way of expressing that Go Go Kiddo will keep children engaged for endless hours of educationally enhanced interactive entertainment.
Jordan Weisman, co-founder of Go Go Kiddo
Bellevue, WA (PRWEB) December 08, 2011
Go Go Kiddo today launched the Go Go Kiddo mobile app for Kindle Fire and other Android devices, delivering a virtual educational playground for kids ages 2-5. Go Go Kiddo reinforces the joy of learning by engaging children in digital play about letters, numbers and music through a variety of activities, stories and games. And, from today until February 29, 2012, Go Go Kiddo will be offering a special holiday creative activity app called Snow Go Kiddo exclusively in the Amazon Appstore for Android, engaging kids for the holidays and snow days beyond.
Go Go Kiddo's is a trusted environment for kids to explore for hours, and with additional entertainment packs, the fun and learning continues to keep kids amused. In addition to learning and playing with letters, numbers and music, Go Go Kiddo's initial suite of interactive entertainment experiences helps kids discover a number of basic social concepts and develops motor skills via learning activities and engaging animated characters.
Go Go Kiddo is launching its initial suite of interactive entertainment experiences through the Amazon Appstore for Android for an introductory price of only $1.99. Entertainment packs, including the exclusive Snow Go Kiddo activity modules and games, will be available for an additional $0.99.
"The only thing better than children's smiles and giggles are way their eyes light up when they learn something new" said Dawne Weisman of Go Go Kiddo. "Vitamin Fortified FunTM is our way of expressing that Go Go Kiddo will keep children engaged for endless hours of educationally enhanced interactive entertainment " added her husband Jordan, who went on to say "The Snow Go Kiddo pack we've made exclusive for the Amazon Appstore for Android is a great way for kids to engage interactively in holiday fun and through the winter season."
Created by a team that has led major interactive entertainment initiatives at numerous companies, including Disney and Microsoft, Go Go Kiddo was designed to leverage new mobile technologies to create experiences that engage and inspire. The founders, Dawne Weisman, Jordan Weisman, Joe DiNunzio, and Shane Small, have always been active participants in the development of their kids at school and at home and love to watch as children use technology to play, interact and learn. Developers with deep children's interactive entertainment experience, an educational advisory board, and hundreds of Go Go Kiddo kid testers have contributed to the Go Go Kiddo experience.
Go Go Kiddo Initial Suite of Activities and Experiences:

Letter Launch: Learn all about letters in this game that allows kids to hear the letter sounds and trace the letters. Bringing fun and learning to the next level, they can then launch the letters from a slingshot to knock down structures, pop bubbles, and collect other letters to make words and score points. Children are taught letter shapes and sounds and are able to associate the letters with words in which they appear. Letter Launch has 36 levels of learning, challenge, and fun!
Trace 'n Race: Trace a number one through 36 and then race against the clock to click on all the pictures that showcase that number. Kids learn about number shapes as they trace, followed by a fast-paced selection game to help them work on number recognition.
Creative Keys: Piano play is at its best in this program that features recording options, a range of key sound effects (from piano and string sounds to household and animal noises), and a music-matching game that tests memory and teaches pitch recognition. The one octave piano with labeled keys also lets players record their own original compositions and then kid composers get to watch the Go Go Kiddo characters dance to their music.
My Stickerbook: Decorate photos and pictures with digital stickers, including funny-themed packs and seasonal items.
Go Go Tunes: Go Go Kiddo's loveable characters – Amber, Mac, Pip, Tenny and Lilly – star in a number of sweet and funny two-minute cartoon episodes that teach social skills around topics such as sharing, avoiding bullying, and respecting others.
Jokes and Riddles: Kids simply laugh out loud at these riddles and knock-knock jokes from goofy and endearing characters Zooney & Gooney.
Exclusive Snow Go Kiddo Entertainment Pack:
The Amazon Appstore for Android exclusive Snow Go Kiddo is packed with five different digital sticker-based activities for endless holiday fun for kids four and up. Easy saving of the child's creations onto their device allows parents to send them out via email, Facebook, text messaging, or Twitter. Snow Go Kiddo activities include, among others:
Silly Santa: Starting with a chubby face oval, kids create their own silly Santa by selecting and placing eyes, ears, nose, mouth, beard, hats, glasses, etc…
Holiday Card Maker: Designer text elements such as "Happy Holidays!" allow kids to create and save holiday card images that parents can send to friends and relatives.
Exclusive Content: Includes a special version of the Go Go Kiddo theme song, and a cartoon featuring Santa and all the Go Go Kiddo characters.
About Go Go Kiddo
Go Go Kiddo is delivering vitamin fortified fun through a virtual educational playground App for kids 2-5. Currently available through iTunes, the Go Go Kiddo App reinforces the joy of learning by engaging children in digital play about letters, numbers and music through a variety of activities, stories and games. Formed in November of 2010 in Seattle by Dawne Weisman, Jordan Weisman, Joe DiNunzio, and Shane Small, the company is exploring new ways to use digital entertainment to engage and inspire. Find out more at http://www.gogokiddo.net.
###