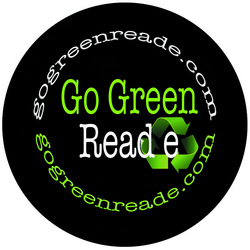 We chose to do this because the idea that nature should be preserved is important to us. It is a core value and one of the reasons that we adore eBooks
Palm Harbor, FL (PRWEB) February 27, 2009
Palm Harbor, Florida -- The folks at All Romance eBooks, an on-line bookstore that specializes in the sale of romance eBooks, announced a new endeavor today, the Go Green/Read e campaign.
"The idea is to promote ebooks in general, not any specific author, publisher, eReader, or bookstore. The campaign will focus on eBooks as a more environmentally friendly alternative to print. On-line advertising will be comprised of banner and video advertising, Yahoo and Google Search Ads, MySpace Ads, the What's Hot in Romance radio show, the Wildfire newsletter, a variety of blogs and the newly unveiled Go Green/Read e website," explained Lori James, COO for All Romance eBooks.
The project is supported by a generous donation from All Romance eBooks, and a team of enthusiastic volunteers. The website, http://www.gogreenreade.com, contains information about the environmental impact of eBooks v print books, as well as an array of relevant links, industry news, and several forums where issues around eBooks, eReaders, and ePublishing can be discussed.
"We chose to do this because the idea that nature should be preserved is important to us. It is a core value and one of the reasons that we adore eBooks," explained All Romance eBooks CFO, Barbara Perfetti. "We care about our carbon footprint, the world we live in, and the world that we're leaving to future generations."
All Romance eBooks, LLC (http://www.allromanceebooks.com) sells romance eBooks for hundreds of publishers and their imprints. Founded in 2006 and privately held in partnership, All Romance eBooks is headquartered in Palm Harbor, Florida.
###