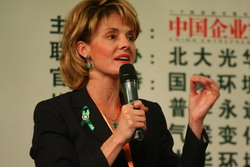 Emerald City of New York
Syracuse, NY (PRWEB) September 26, 2008
The Go Green Initiative, the world's largest environmental education program, today announced that the 2008 International Go Green Earth Summit will be held October 17-18, 2008 at the Oncenter in Syracuse, NY. Representatives from across the U.S. will be joined by attendees from Honduras, Ghana, Ethiopia and Uganda for an unprecedented opportunity for students, education leaders, government officials, environmentalists, and concerned parents to receive the highest quality training in environmental stewardship, facilitated by the nation's foremost subject matter experts.
The Summit is co-hosted by the City of Syracuse - recently dubbed the "Emerald City of New York" for its work to 'go green'; the New York State PTA - which was one of the first state PTA's in the U.S. to formally adopt the Go Green Initiative; and NYSAR3 - which is the New York affiliate of the National Recycling Coalition and a strong supporter of the Go Green Initiative.
The purpose of the International Go Green Earth Summit is to bring together a diverse gathering of community stakeholders from across the globe to discuss and plan ways to create a culture of conservation. The Summit is constructed to allow for networking, roundtable discussions, panel discussions, lectures from world-renowned experts, and tours of schools that have adopted the Go Green Initiative. Summit participants are afforded the rare opportunity to chat with state and national leaders in environmental protection, child advocacy and education, in an informal and relaxed setting that promotes meaningful collaboration and problem solving.
Speakers for the Summit include: Jill Buck, Founder of the Go Green Initiative; Mayor Matthew Driscoll of the City of Syracuse; David Refkin, President of the National Recycling Coalition and Director of Sustainable Development for Time, Inc.; Dr. Nancy Cantor, Chancellor of Syracuse University; Dr. Neal Murphy, President of SUNY College of Environmental Science and Forestry; Maria DeWald, President of the New York State PTA; Jeff Cooper, President of NYSAR3; and many more luminaries from across the nation.
A special track for students has been added to the Summit program this year. The student track is designed to train students for 21st century environmental leadership roles, both on campus and in the community. Students will learn the intricacies of recycling, composting, resource conservation, and waste reduction. Special discounted pricing is available for students.
Seating is limited to 500 participants and registrations are coming in quickly. To reserve a seat at the Summit, visit https://www.gogreeninitiative.org/earthsummit2008/index.php. The 2009 International Go Green Earth Summit will be held in Texas, so residents in Northeastern U.S. states should take advantage of this year's Summit location in Syracuse, NY.
About the Go Green Initiative Association - The Go Green Initiative is the world's fastest growing fully comprehensive environmental action plan for schools. By promoting environmental stewardship on campuses from elementary schools through universities, Go Green works to involve families, businesses and local governments in the common goal of protecting human health through environmental stewardship. Since its inception in July 2002, the Go Green Initiative has been endorsed by the National School Boards Association, National Recycling Coalition, adopted by eight State PTA Boards, implemented in all 50 U.S. states, 13 countries and on 4 continents. The Go Green Initiative has kept more than seven million pounds of recyclables out of the world's landfills, conserved 18,606,000 gallons of water, and saved 44 billion BTUs of energy. These accomplishments were achieved voluntarily, with no mandates or legislation, showing that "going green" is practical and simply makes sense. There are currently over 1.7 million students and teachers in registered Go Green schools.
More information is available online at http://www.GoGreenInitiative.org.
Media Contact:
Jill Buck, Go Green Initiative Association
(925) 487-0777; jillbuck @ gogreeninitiative.org
###