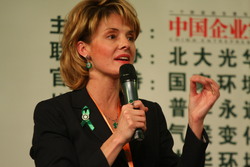 worried about being early movers
Beijing, China (PRWEB) May 7, 2008
Jill Buck, Founder and Executive Director of the world's largest and fastest growing environmental education plan - the Go Green Initiative - was a featured speaker at the Inaugural Annual Summit of China Green Companies in Beijing on Earth Day. She praised the China Entrepreneur Club and the Daonong Enterprise Institute (DEI) for their outstanding work to develop and reward aggressive standards for China Green Companies.
"When I first began working with DEI in early 2007, I was impressed with their determination to help Chinese and multinational companies achieve remarkably high standards in sustainable business practices. In just a few months, they have garnered support from the largest and most influential companies in China, and have demonstrated tremendous success," says Buck. She told the crowd of nearly one hundred journalists and several hundred business leaders that she "hoped to return to Beijing many times to continuously support and encourage their outstanding work, and maintain strong relationships between the U.S. and China."
Shi Wang, Chairman of China Vanke Co., Ltd., of which Mr. Wang was Chairman and General Manager from 1991 to 1999, was also a speaker at the Summit. Besides being one of the most successful and respected businessmen in China, Mr. Wang is an avid mountain climber. His power point presentation included photos of famous peaks worldwide that have been affected by climate change over the many years he has crested the peaks. He encouraged Chinese businesses not to be "worried about being early movers" in green business practices; "it means you will soon be the leaders," he said to enthusiastic applause. Mr. Wang founded the Shenzhen Exhibition Center of Modern Science and Education Equipment in 1984, which is the predecessor to China Vanke Co., Ltd. Mr. Wang is the Executive Manager of the China Real Estate Association and is Deputy Director of the City Housing Development Council of the China Real Estate Association.
Donghua Liu, head of the China Entrepreneur Club and president of the China Entrepreneur Magazine, was the host of the Summit event. His vision for China-based companies is to consider green business practices as a competitive edge, and urged action on the part of China businesses to create a "carbon free economy." His leadership drew participation on the part of the Chinese government, Chinese media, international NGO's, and luminaries in the Chinese business community. He left no doubt that each consecutive annual China Green Companies Summit would be marked with even greater achievements than the last, and many in the crowd are already looking forward with anticipation to Earth Day 2009.
"The evidence is clear…Chinese business leaders intend to be role models for the world in sustainability and profitability. They have made the connection between economically feasible and environmentally responsible business models, and they are working together to set the standard for others to follow," says Buck. "I believe we are witnessing the genesis of a critical pivot point in China, and I hope they receive the praise they deserve."
About the Go Green Initiative Association - The Go Green Initiative is the nation's fastest growing fully comprehensive environmental action plan for schools. By promoting environmental stewardship on campuses from elementary schools through universities, Go Green works to involve families, businesses and local governments in the common goal of protecting human health through environmental stewardship. Since its inception in July 2002, the Go Green Initiative has been endorsed by the National School Boards Association, National Recycling Coalition, adopted by eight State PTA Boards, implemented in 49 states and over 1500 schools, along with schools in Europe, Mexico, Asia and Africa. There are currently over 1.5 million students and teachers in registered Go Green schools.
More information is available online at http://www.GoGreenInitiative.org.
Media Contact:
Jill Buck, Go Green Initiative Association
(925) 487-0777; jillbuck(at)gogreeninitiative.org
###