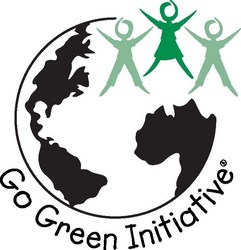 It's not enough to prepare our children for the future...we must prepare the future for our children. Jill Buck, Founder of the Go Green Initiative
San Francisco Bay Area, CA (PRWEB) July 29, 2010
Today, the Go Green Initiative (GGI) released data collected from schools in all fifty (50) U.S. states and thirty-six (36) countries, representing five (5) continents. The numbers reveal that due to the waste diversion and recycling efforts of schools involved with the GGI, over 4,425 metric tons of greenhouse gas emissions have been saved, which is the equivalent of saving 10,291 barrels of oil.
"We have schools in the Gulf of Mexico, Michigan and China, all of which have been adversely affected by recent catastrophic oil spills," says Jill Buck, founder of the Go Green Initiative. "As the U.S. and China make tremendous strides to increase the amount of renewable energy available to consumers, it is important to recognize the many ways that consumers can reduce their country's need to supply so much oil."
The GGI provides free training to schools, which helps them reduce their environmental footprint. Schools learn to measure their waste diversion and recycling, and voluntarily report that data to the GGI via simple, online forms that students can help calculate. Any school may register with the GGI, and participate in the global support network of communities involved in the program. To date, GGI schools have recycled over eleven (11) million pounds of recyclable material, saving considerable natural resources and nearly 17,000 cubic yards of landfill space.
About the Go Green Initiative (GGI):
The Go Green Initiative is a 501©3 organization, and the global leader in fully comprehensive environmental action plans for schools, businesses, organizations and homes. By promoting environmental stewardship on campuses from preschools through universities, the GGI works to involve families, businesses and local governments in the common goal of protecting human health through environmental stewardship. Since its inception in 2002, the Go Green Initiative has been endorsed by the National School Boards Association, National Recycling Coalition, adopted by nine State PTA Boards, implemented in all 50 U.S. states, 36 countries and on 5 continents. There are currently over 2.2 million students and teachers in registered Go Green schools.
More information is available online at http://www.GoGreenInitiative.org.
About Jill Buck:
In 2002, Jill wrote the Go Green Initiative, which is now the largest and fastest growing comprehensive environmental education program in the world, operating in all 50 U.S. states, 36 countries, and on 5 continents.
Jill owns Buck Consulting, http://www.jillbuckconsulting.com, which helps businesses achieve profitability through sustainability. She teaches business leaders how to drive revenue up and costs down through environmentally responsible business practices, and how to engage in "green marketing" to increase market share. She is a founding member of the International Appraisal Committee for the Daonong Center for Enterprise, a think tank formed by the China Entrepreneur Club. Jill serves as a Strategic Advisor for the Joint U.S. China Cooperative on Clean Energy (JUCCCE), and is the host of "Go Green Radio", on the U.S.'s largest internet talk radio station, http://www.VoiceAmerica.com.
Jill is an international featured speaker at business, public policy, political, and environmental conventions, and is one of the nation's leading advocates of free market solutions for environmental protection issues. Jill has been featured in such publications as U.S. Mayor, NSBA newsletter, Working Mother Magazine, Women's Health Magazine, Ebony Magazine, Diablo Magazine's "Women to Watch", Cleveland Business Connects Magazine, and Dermatology Times.
# # #