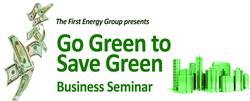 Go Green to Save Green
Old Bridge, NJ (PRWEB) April 10, 2009
The First Energy Group will offer a special business seminar, "Go Green to Save Green" to Pennsylvania businesses during May. This unique, half-day seminar will provide information and tips on how to save energy while increasing operational efficiencies and reducing environmental impact. Complimentary breakfast and lunch will be served.
The free seminar will be held in Wilkes-Barre on May 4th and Scranton on May 5th, and Pennsylvania business owners, managers and supervisors are invited to attend. The challenges and opportunities of energy management will be discussed, along with the latest technologies available including: lighting, HVAC, solar, back-up generation and more. Participants will learn from a series of experts, how using energy efficiently can help them do more with less.
With energy costs expected to rise 40% over the next year, energy conservation is no longer optional. This seminar will demonstrate how companies can use energy to reduce overhead, enhance their bottom line and improve environmental conditions in factories, warehouses, office buildings-- all types of commercial and institutional facilities.
There is enormous awareness about environmental issues today and becoming an environmentally-friendly company has taken on new meaning. A well-designed upgrade can provide a business with energy savings while paying off the capital investment for new equipment.
According to Herbert M. Unger, Vice President of The First Energy Group, "The payback period on something as straightforward as a lighting retrofit can be under a year and we typically see savings between 50 and 60%. There's really no reason not to go green anymore"
"Go Green to Save Green" seminar participants will learn about energy trends and recent history; gain an environmental and operational appreciation of the benefits to curbing energy use; and align expectations of energy savings potential with industry benchmarks. They will also learn how to identify specific areas to examine and analyze for energy improvements, plus learn about financing options available through government and private organizations.
In addition to executives from The First Energy Group, planned participants include: Northeastern Pennsylvania Alliance (NEPA), PPL Corporation and the Sustainable Energy Fund. Companies such as Simplex Industries, Diamond Manufacturing, American Silk and others will also be on hand to share their experiences with energy conservation.
"Go Green to Save Green" Business Seminar will be held in the following Wilkes-Barre and Scranton locations, and complimentary breakfast and lunch will be served:
5/4- The Ramada Inn, 20 Public Square, Wilkes-Barre, PA 18701
5/5- The Hilton, Scranton, 100 Adams Avenue, Scranton, PA 18503
Who should attend?

CEOs, CFOs
Building Owners
Controllers, Purchasing Agents
Plant Managers, Facility Managers
Operations managers
Maintenance Supervisors
To register, please visit http://www.firstenergygroup.com/gogreen.html or call 732-607-2700 ext. 102
About The First Energy Group
With offices in Old Bridge, New Jersey and Allentown, PA, The First Energy Group has been providing energy effectiveness and environmentally beneficial solutions to thousands of companies throughout the tri-state area and beyond since 1990. The First Energy Group specializes in unique energy effectiveness programs that provide rapid payback and improved working conditions. Their clients include companies like Snapple, Lenox, Sun Chemical, Integrated Packaging and Simon & Schuster along with hundreds of lesser know companies. Their services include: turnkey projects, energy audits, lighting reviews, consulting services, performance contracting, and a wealth of other energy management services including client education.
###