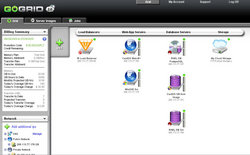 We are extremely excited about this innovative new GoGrid release
San Francisco, CA (Vocus) August 11, 2009
Today GoGrid, the Cloud Computing service from ServePath, released version 2.0 of its award-winning Cloud Computing Infrastructure solution. With this release, GoGrid users now have the ability to create personal server images, known as MyGSIs. MyGSI stands for "personal GoGrid Server Image," a "Golden Master" server image that can be customized, saved and stored for future deployments. Users are now able to create new servers from stored MyGSIs via the GoGrid web portal or API quickly and easily.
"We are extremely excited about this innovative new GoGrid release," said John Keagy, CEO and Co-Founder of GoGrid and ServePath. "This is an important development in the Cloud Computing marketplace, and further demonstrates our visionary approach to providing Cloud Computing functionality and features that our customers desire."
The creation of a MyGSI is an extremely simple 3-step process. First add an Image Sandbox, second, configure and prepare the Image Sandbox and third, save the Image Sandbox as a MyGSI. When a user needs to create a new Windows or Linux server based on the pre-configured MyGSI, they simply choose the saved image, fill in a few details, and instantiate the server in minutes within the GoGrid cloud.
There are several benefits and advantages of using a MyGSI to deploy servers within the GoGrid cloud:

Vertical Scaling – new Windows or Linux servers can be quickly created with varying amount of RAM, all based on the MyGSI, allowing for easy vertical scaling.
Horizontal Scaling – "clones" of existing servers can be spawned with the same configurations and settings as defined within a MyGSI.
Server Parking – users now have the ability to "park" a server within GoGrid Cloud Storage, instead of within the active GoGrid network. Servers can be instantiated, used and deleted with ease and recreated through the same cycle, all without the need of heavy or new configuration.
Cost Savings – MyGSIs are heavily compressed from the initial 20 GB size, frequently to less than 1/2 the original size. MyGSIs are saved within a user's GoGrid Cloud Storage for $0.15 per GB per month. This means that an 8GB MyGSI would cost only $1.20 per month to store. GoGrid also provides 10 GB of Cloud Storage space for free with every account.
Easy to Use Interface – GoGrid's award-winning web-based dashboard contains all of the features and functions needed to deploy a full infrastructure in the cloud, all available at the click of a mouse.
GoGrid Version 2.0, complete with the new MyGSI functionality, is currently available to all GoGrid customers, and also includes a number of feature enhancements as well as improved server deployment speeds. Details of these and other new features in this important release can be found at the GoGrid product site, the GoGrid blog, the GoGrid Wiki and GoGrid User Forums. For details or to sign up for GoGrid Cloud Hosting, please contact a Sales Representative at: http://www.GoGrid.com .
About GoGrid – http://www.GoGrid.com
GoGrid is a leading Cloud Infrastructure Hosting provider that delivers true "Control in the Cloud™". GoGrid enables system administrators, developers, IT professionals and SaaS (Software as a Service) vendors to create, deploy, and control load balanced cloud servers and complex hosted virtual server networks with full root access and administrative server control. GoGrid server instances maintain the industry standard specifications with no requirement to learn and adapt to proprietary standards. Bringing up servers and server networks takes minutes via a unique web control panel or GoGrid's award winning API. GoGrid delivers portal controlled servers for Windows Server 2008, Windows Server 2003, SQL Server, and ASP.NET. GoGrid also hosts multiple open-source server operating systems including several Linux operating systems (Red Hat Enterprise and CentOS) and supports application environments like Ruby on Rails. Free f5 hardware load balancing and other features are included to give users the control of a familiar datacenter environment with the flexibility and immediate scalability of the cloud, a "cloudcenter." GoGrid won LinuxWorld Expo's 2008 Best of Show award.
About ServePath - http://www.servepath.com
ServePath, a Microsoft Gold Certified Partner, is the leading managed and dedicated hosted server provider, delivering custom solutions and managed services to businesses that require powerful Internet hosting platforms for their production environments. Thousands of companies worldwide look to ServePath for its reliability, customization, and speed. ServePath has a Keynote-rated A+ network and guarantees uptime with a 10,000% guaranteed™ Service Level Agreement. The employee-owned company has been in business for nine years and operates its own San Francisco data center and is SAS70 Type II certified. ServePath uniquely delivers server infrastructures optimized for complex databases with cloud front-ends and application servers with Cloud Connect.
###